How Asterisk Call center solution development services help in smooth operations of call centers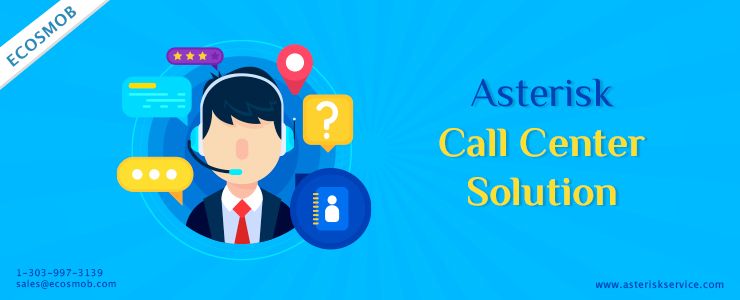 Asterisk is used at several large and smaller enterprises as it is an open-source PBX solution. It is a helpful tool that assists call center solutions in handling huge calls and offering satisfactory solutions to the customers. It is an affordable as well as extremely powerful Linux based solution for businesses. Multiple organizations around the world are using Asterisk Solutions to support their business operations.
Benefits of Asterisk Call center solution
There are several advantages to the Asterisk call center solution. Few of the significant benefits include:
Open-source platform
There are several benefits of Asterisk solutions, and one of such is that it is absolutely free and open source. Its code is readily available on various platforms. Therefore, you can customize and modify the PBX solution as per the requirements of the business and make use of Asterisk solutions functionality, including the additional features to power your work.
The asterisk solution reduces the cost of communication within the company drastically. This is because it is free and even open source. The asterisk solution saves a lot on development cost and therefore is much affordable.
Integration with CRMs, APIs, and software
The Asterisk solution also offers several APIs that can be easily integrated with any third-party software and ultimately ramps up your business enterprise's functionalities. One can easily integrate the Asterisk solution with any external or internal CRMs, applications, or software.
Cheap Audio and Video Conferencing
Companies worldwide are always searching for software that can assist them in audio and video conferencing to discuss or communicate their day-to-day operations. With the help of Asterisk solutions, an individual can easily access the offices present in the network area. Therefore, using Asterisk solutions, one can get the hands-on conference calling feature slightly cheaper than the other commercial solutions.
Features of Asterisk Call center solution
Asterisk solutions comprise several basic as well as advanced features to support the business. Some of the advanced features of Asterisk solutions are Auto-attendant, Call forwarding, Voicemail to Email, IVR, music on Hold, etc. Ultimately, all these features will offer a professional look too small as well the large businesses.
Ecosmob has an advanced as well as excerpt team of Asterisk development along with Asterisk Support professionals. Therefore, along with including the customization and implementation of Asterisk solutions at your premises. Live technical support long with 24*7 facilities are also offered. This helps solve queries, and therefore issues are resolved on a timely basis without any interruption or delay.
Final words
If you have decided to have Asterisk Solutions at your business, Ecosmob's Asterisk solution is highly preferable. It comprises features which will result in enhancing the telephonic experience. Ultimately, it meets all the basics and advances communication needs, and you also get the leverage of customizing it as per the requirements. Therefore, always prefer Asterisk Solutions for smooth operations of the call center and generate higher productivity.