Asterisk SBC Software: An Ideal Solution for VoIP Service Providers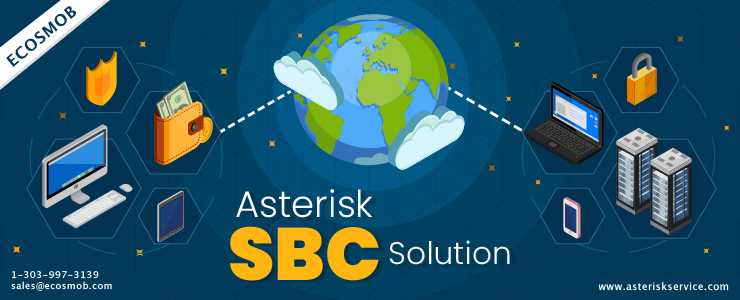 With the growing usage of the Internet, a large number of businesses are adopting VoIP services for the efficient management of their communication system. A number of VoIP service providers are offering customized, cost-effective, and feature-rich PBX services to businesses of different types and sizes. Though Internet services are quite cost-effective and versatile, these are also more prone to security attacks. These kinds of services need a high level of security to eliminate the chances of DoS (Denial of Service), DDoS (Distributed Denial of Service), and other attacks. Here comes the role of the Asterisk SBC solution. The Session Border Controller or SBC solution assures peace of mind for both the service providers as well as their customers.
Before going into the details about the Asterisk SBC software solution, let's find out what exactly SBC solution is. Well, a Session Border Controller (SBC) is a network function that secures the VoIP (Voice over Internet Protocol) infrastructure. It acts like a Firewall for VOIP. SBCs are usually employed in enterprise infrastructures or any carrier network offering commercial, residential, business, fixed-line, or mobile VoIP services. Besides, the solution is generally deployed at the demarcation points (borders) between one part of a network and another.
The SBC software solution provides security to networks as well as individual calls placed over VoIP networks while assuring complete privacy. In all, the Session Border Controller software solution takes care of:
Security
Call Routing
Encryption
Media Transcoding
Policies
SIP Conversions
DTMF Detection, etc.
Benefits of SBC Software Solution
Some of the key benefits of SBC software solution include:
Helps to resolves NAT traversal of firewalls
Allows easy handling of interoperability issues
Provide flawless routing
Ensures high security including protection against DoS and DDoS attacks
Comprises inbuilt authentication feature
Assures disaster recovery
Offered encryption for privacy and prevent call interception
Facilitate inbuilt diagnostics
Asterisk Session Border Controller Solution
In today's time, the SBC software solution has become one of the widely used technologies in the communication and telecom sector. A number of SBCs are available in the market as hardware or software. Besides, different open-source solutions including Asterisk, FreeSwitch, OpenSER, OpenPBX, and many others can be used as a session border controller.
Among a number of SBCs, the Asterisk SBC solution is considered as an industry standard. The solution helps to resolve various issues caused by firewalls and NAT for VoIP calls. It also allows users to control the types of calls that they can make via the networks. With the use of Asterisk SBC software solution, various high-tech solutions can be customized to meet the specific requirements of various industries.
Features of Asterisk SBC Software Solution
Below mentioned are few of the key features of SBC software solution:
As mentioned above, the SBC software solution comes with a built-in firewall system that protects users from vulnerable DDOS, DOS, and various other attacks. Along with a number of robust security features, the Asterisk SBC software solution comprises various features such as:
DTMF inter-working (RFC2833, Inband and SIP INFO)
Call admission control
Signaling protocol inter-working
NAT Traversal
Protocol validation
Topology and Carrier hiding
Media bridging
Fault tolerance
Policy-based call routing
Emergency call handling
Codec transcoding
Carrier tech prefix insertion/removal
Benefits of Asterisk SBC Software Solution
For VoIP service providers, Asterisk Session Border Controller presents numerous benefits. Some of these include:
Better Connectivity: With Asterisk SBC software solution users can experience better connectivity through a large array of networking techniques like NAT traversal, SIP normalization, Protocol translations, IPv4 to IPv6, VPN connectivity, and more.
Improved Security: Asterisk SBC software solution assures superior security by protecting the network and network devices from assorted online attacks and threats including DoS, DDoS, etc. The solution also protects the signals via encryption, thereby preventing communication from any kind of fraudulent media streams.
Excellent Quality Service: Asterisk SBC software solution facilitates prioritization of calls, data flows, and functions including call admission control, resource allocation, traffic policing, etc. Thus, allow users to enjoy excellent quality service without any glitches.
Superior Media Services: Asterisk SBC comprises in-built digital signal processors which allow broadcasting of superior quality media services.
Accurate Statistics and Billing Details: Asterisk SBC software facilitates accurate statistics and billing details which makes the billing process much smoother and easier for the service providers.
Conclusion:
Asterisk is undoubtedly one of the most reliable and well-renowned names in today's telecom and communication sector. Most VoIP service providers find Asterisk SBC software an ideal solution for protecting and managing the flow of communication while ensuring excellent security to the network.