Asterisk Voice Broadcasting System: An Ideal Solution for Creating Successful Marketing Campaigns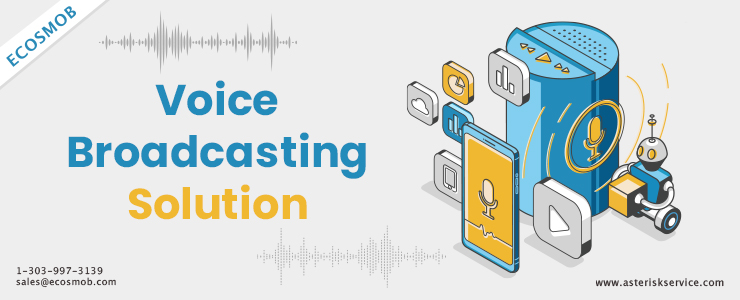 In today's highly competitive marketplace, businesses are required to commence frequent marketing campaigns to generate brand awareness and sales. To promote their products and services, businesses make use of various media including voice, print, television, and online platforms. For a successful marketing campaign, it is vital for businesses to first define their goal which means what results they desire out of their marketing campaign. Another very important thing that can make a marketing campaign successful is choosing the correct and most effective medium for connecting with a particular segment of customers.
Nowadays, there are several solutions available in the market that allow businesses to reach their target audiences effortlessly. One of the most efficient, widely used, and cost-effective ways is the voice broadcasting solution. Yes, voice broadcasting is an effective marketing technique that allows businesses to reach out to a number of potential customers without putting in any extra human efforts or resources. It is a real-time, advanced approach as compared to other marketing technologies. Since it is real-time, it allows businesses to engage their customers directly, thus eliminating the chances of customers ignoring these direct messages.
What is Voice Broadcasting?
Well, voice broadcasting is one of the most popular and easiest ways to broadcast a voice message to a large number of call recipients at once. It can be defined as a mass communication technique that businesses largely adopt while running a marketing campaign. This broadcasting system is an ideal solution for businesses to promote attractive deals and offers related to their products and services to their existing as well as potential customers. The solution can also be used to perform surveys and to collect useful information from the customers belonging to different regions without the need to spend a huge amount of money. In all, with the voice broadcasting technique, businesses are able to save a lot of their time, enhance revenue, and increase customer satisfaction level.
How Voice Broadcasting System Works?
It is quite simple to use a voice broadcasting system. Users are just required to update the system with their entire list of contacts that they want to target. When a call is placed and is answered by the recipient, the voice broadcast will play a pre-recorded audio or message. A smart voice broadcast system is capable of detecting an automatic answering machine. When the call is answered by the machine, the system will either play the message or hang up the call.
Key Features of Voice/Audio Broadcasting System
Some of the key features of voice broadcasting system include:
User-friendly Interface
Supports simultaneous calls
Personalized messages
Answering machines detection
DNC and opt-out support
Auto redial feature
Supports Interactive Voice Response (IVR)
Call report notifications
Web-based call detail reports
Easy import of contacts
Handles multiple IVR scripts at once
Live call transfer
Today's businesses look for smart and innovative solutions that can help to drive their marketing campaigns to greater heights without spending a huge amount. One such solution is the Asterisk voice broadcasting software system. It is an advanced solution that can be integrated easily with an enterprise's CRM. The voice broadcast system will select contact lists as per the pre-defined parameters. Businesses can create a voice message in a language that their customers can understand easily. After creating the voice message, businesses are required to define a particular day or time when they want their message to be delivered to their target customers. That's it, the voice broadcasting system will perform the rest of the task efficiently and effectively.
Benefits of Asterisk Voice Broadcasting Solution
By using the Asterisk voice broadcasting solution, businesses can benefit in several ways, such as:
They can reach a number of customers regardless of their location throughout the world.
The solution offers superior flexibility to businesses while sending out voice messages to the target customers. They can choose the time when the voice message should be delivered. Also, they can decide the duration and the end time of the campaign.
It is a cost-effective solution that helps businesses to achieve their marketing goals without spending a huge amount.
It allows businesses to add a personalized touch to the messages. For instance, they can create messages in any language. Besides, the system can also be programmed with various greeting messages to make customers feel more special and valued.
The Asterisk voice broadcasting solution is easy to use. Moreover, businesses can integrate this system easily with their CRM without the need of any complex wiring or installation.
With reduced costs, easy implementation, simple usage, and reduced workforce requirement, the system allows businesses to enhance their efficiency and productivity.
The Asterisk voice broadcasting system is a reliable, scalable, and robust solution that comes with the ability to make any marketing campaign a successful event.
Conclusion:
To conclude, a voice broadcasting solution is an exceptional solution for businesses that are looking for an efficient and cost-effective way to carry out their marketing campaign. The solution is smart enough to drive satisfactory results in the form of increased sales, enhanced brand awareness, and better ROI.