Why it is Beneficial to Invest in Asterisk Development Services For VoIP Development?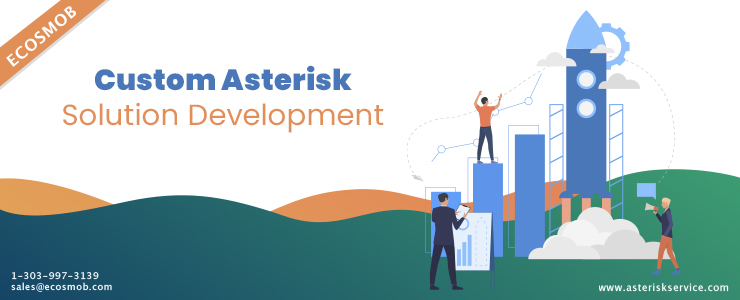 Asterisk is an incredible open source technology that is widely used to create custom development for the system, software, application, module, dial plan programming, AGI scripting, and much more. Asterisk consists of plentiful features including simple to advanced features to support the creation of various open source software. While supporting an assortment of VoIP and PRI protocols, Asterisk can work with various codecs consistently.
Why Choose Asterisk Development?
Some of the key reasons to choose Asterisk development over other open source platforms include:
Versatility: Asterisk is the most versatile framework for developers. The developers are just required to have a working knowledge of programming, Linux, telephony, and network to create exceptional solutions and applications with Asterisk.
Flexibility: Asterisk is a highly flexible framework that can be utilized to develop various voice communication applications. Developers can create a number of things with Asterisk such as VoIP gateway, IVR servers, IP-PBX, Voicemail server, and many others.
Ease of Use: Since Asterisk is an open-source system, it is absolutely free to download and use. Users can have complete access to Asterisk's source code. Moreover, it allows users to build up their own services and features based on Asterisk's capabilities and components.
Features of Asterisk
Asterisk framework comprised of a rich set of features, some of the key features are mentioned below:
ADSI On-Screen Menu System
Authentication
Automated Attendant
Blind Transfer
Call Detail Records
Blacklists
Call Forwarding
Call Monitoring
Call Parking
Call Queuing
Call Recording
Call Retrieval
Call Routing (DID & ANI)
Call Transfer
Caller ID
Conference Bridging
Database Store / Retrieve
Database Integration
Do Not Disturb
Fax Transmit and Receive
Interactive Voice Response (IVR)
Local and Remote Call Agents
Music On Hold
Open Settlement Protocol (OSP)
Overhead Paging
Protocol Conversion
SMS Messaging, etc.
Benefits of Asterisk
Full Control: After accomplishing the Asterisk development on the VoIP system, the users have the right to execute any modifications in their system. Unlike various other ready-to-use products that don't allow adding or removing any characteristic and is completely controlled by the development company, the Asterisk-based system allows users to perform customization in the system as per their requirement.
Complete Ownership: With Asterisk development, users will get complete ownership to control and manage the functionality of the network. Additionally, the users are not bound to one seller for any future requirements. Any changes in the terms and conditions will not affect the users.
Customized Solution: While availing Asterisk development services, users can get a customized solution that best meets their company's requirements.
Types of Customized Asterisk Development Services
Different types of customized Asterisk development services that are widely in demand by businesses include:
Asterisk Application: It includes developing and customizing various Asterisk-based applications based on the specific requirements of the businesses.
Asterisk Module: This development service comprises module customization in Asterisk which includes modification in Asterisk source code as per the key requirements of the customers.
Dial Plan Programming: The dial plan is an essential part of any Asterisk system. It is a system that defines how Asterisk manages inbound and outbound calls. Moreover, Asterisk's dial plan is fully customizable as per the requirements of the customers.
AGI Scripting: AGI (Asterisk Gateway Interface) is an Asterisk-based language-independent scripting that facilitates additional functionality to Asterisk with various different programming languages.
Skills of Asterisk Developers
In order to develop a custom Asterisk solution, developers are required to have a detailed understanding of Asterisk's structural design. They must be able to leverage the features and benefits of this superior framework to create an outstanding customized solution for the clients. So, if you are planning to hire developers for Asterisk development, just make sure that they are skilled enough to tackle any given Asterisk-based project. Some of the key skills of Asterisk developers include:
Knowledge of Asterisk SIP Profile and Dial plan Configurations
Proficiency in Asterisk AGI and Fast AGI scripts development
Deep knowledge of Asterisk AMI & ARI
Good know-how of SIP/SDP/RTP protocols
Detailed knowledge of chan_sip and chan_pjsip
Capability to setup Asterisk in HA mode
Conclusion:
Due to its outstanding features and benefits, the Asterisk framework is used widely for the development of mobile and desktop applications. Most of the leading mobile and web application development companies are already utilizing the benefits of this superior technology. The technology requires only one time investment and the users can enjoy its benefits for a long period of time.