Asterisk Session Border Controller Solution: A Boon to VoIP Service Providers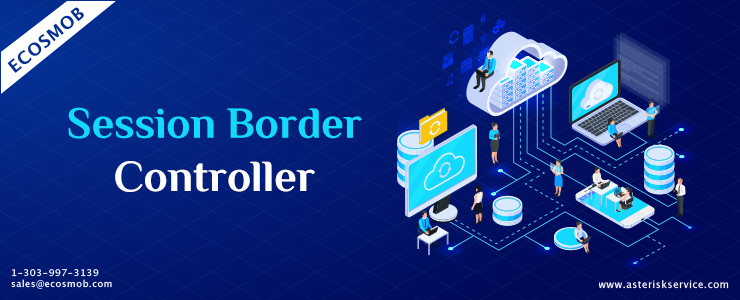 Nowadays,  (SBC) technology is widely adopted in the modern telecom and communication sector. With the use of SBC software and VoIP solutions, telecom companies can ensure a high quality of service along with enhanced security and control. The Session Border Controllers act as a firewall for VoIP and are often configured as a SIP back-to-back user agent. Along with firewall functions, SBCs can also be used to provide services like NAT traversal.
The device is often installed at a point of demarcation between two parts of the network. SBCs can be installed in various ways, such as:
Between peering service provider networks
Between the organization network and the service provider network
Between the service provider network and residential users
What Do You Understand by a Session Border Controller (SBC)?
SBC is a device that is used in advanced VoIP networks to exert control over the signaling and allow high-quality media streaming. The technology imposes security, superior service, and access control mechanisms over the VoIP sessions. It makes setting up, streaming and securing calls on VoIP networks much smoother and easier. The SBC solution enables carriers to integrate flexibility with vendors and new customers to build up revenue opportunities and operational excellence. The SBC software allows users to manage the types of calls that can be placed through the VoIP networks.
Why Asterisk Session Border Controller solution?
Currently, various SBCs are available as hardware or software solutions. Moreover, different open-source solutions such as Asterisk, SER, OpenSER, FreeSwitch, OpenPBX, Yate, and various others can be used as a session border controller.
In today's telecom and communication solutions, Asterisk is one of the most popular, trusted, and industry-recognized players. Keeping pace with the recent innovations in telecom communication, they deliver high-tech solutions customized for enterprise specific requirements. They provide installation, configuration, and supporting SBC open source solutions for different industry settings. They are also capable of implementing a whole range of SBC functions across various network configurations.
Key Features of Asterisk SBC Solution
SBC comes with a built-in firewall that protects users from vulnerable DDOS/DOS attacks. Moreover, it comprises assorted robust security features such as:
Topology and Carrier hiding
Signaling protocol inter-working (SIP, SIP-T and H.323)
DTMF inter-working (RFC2833, Inband and SIP INFO)
Protocol validation
Carrier tech prefix insertion / removal
Codec transcoding
Benefits of Asterisk SBC
Asterisk Session Border Controller comes with numerous benefits for VoIP service providers. Some of the key benefits are:
Security: Asterisk SBC solutions provide excellent security by protecting the network and network devices from all kinds of nasty threats and attacks including distributed DoS, Denial-of-Service attack (DoS), and more. It also protects the signals through encryption and helps prevent the communication from being subject to fraudulent and rogue media streams.
Superior Connectivity: With Asterisk SBC solutions, users can benefit from superior connectivity via a huge range of networking techniques such as IPv4 to IPv6, SIP normalization, VPN connectivity, NAT traversal, Protocol translations, etc.
High-Quality Service: With Asterisk SBC, users can be assured of high quality of service through prioritization of calls and data flows and functions including traffic policing, resource allocation, rate limiting, call admission control, and more.
Media Services: Asterisk SBC also assists in broadcasting better media through built-in digital signal processors (DSPs).
Accurate Statistics and Billing Information: Asterisk SBC software also comes with accurate statistics and billing information.
Conclusion:
SBC software solution by Asterisk provides optimum network service quality while ensuring better security. It would be right to say that Asterisk's SBC solution is a fantastic platform for developing customized web conferencing solutions and offers cost-effective solutions to address all the conferencing requirements.