5 Reasons Why VoIP Service Providers Should use Asterisk Session Border Controllers?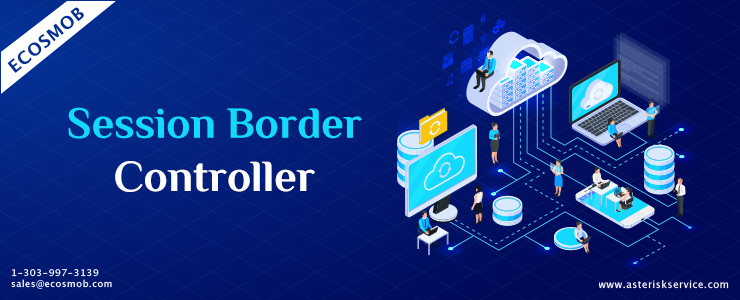 When you enter the world of unified communication, learning its components can be difficult. Acronyms used in these places can often be confusing and difficult to understand. For example, SBC, an acronym for Session Border Controller, is used to protect SIP-based VoIPs. SIPs are a signaling protocol that starts controls and ends voice, video, and messaging apps.
VoIP is a telephonic service used by the organization which is maintained and controlled by SIP. SBC software is a network element that works with SIP and VoIP to improve connectivity and take care of safety concerns. Despite their benefits, many companies do not use SBC software. To eliminate the security risk and reduce its cost, it is advisable to use good quality SBC software.
5 Reasons Why VoIP Service Providers Should Use Asterisk Session Border Controller?
Connectivity:
Asterisk SBC connects the company's communication to PBX. It plays an essential role in maintaining the network and keeping it secure. Organizations can use SBC to route their phone traffic through internal IP, thus saving them enough time and money.
Quality:
Asterisk SBC has better call quality and is easy to use. They let PBX be located on a LAN with a private network. They even normalize signaling between PBX and service providers and give essential routing capabilities. SBC allows proper working of VoIP and other video devices, enables testing of VoIP lines, helps in call monitoring, and much more. If there is any complaint of missed, dropped, or poor calls, SBCs can improve that.
Mitigation:
SBC works on pattern analysis to ensure no unusual activities, such as remarkable traffic surges during DOS attacks. A DOS attack occurs when there is a hefty traffic load from a single IP address or different machines making requests from the same server. It brings down the entire network and leads to downtime. SBCs take care of such threats and protect the server from such attacks. It even takes care of the malware that might sometimes come along with DOS.
Safety:
SBC blocks a problem as soon as it detects one. It then sends a notification to the Central Processing Unit and host of the threat's details and the protocols set up to neutralize the threat. It also sends details of the threats to other business locations to ensure that they are informed about the threat and are on a continuous lookout for anything similar.
Security:
Hackers are continually upgrading their skills to bypass the previous versions of the security standards used. SBC vendors also make sure to use and update their protocols quickly to avoid such breaches by hackers. Users need to make sure that they install the available updates as soon as it is made available to ensure proper protection.
Wrapping up
It is quite surprising that many companies are still not using such SBC service even after so many benefits. With the growth of technology, it is becoming more complex, and security threats are getting higher. Therefore, the need for an SBC is there to make sure that such issues are resolved.