Make Your Business Customer-centric with CRM integrated IVR Solution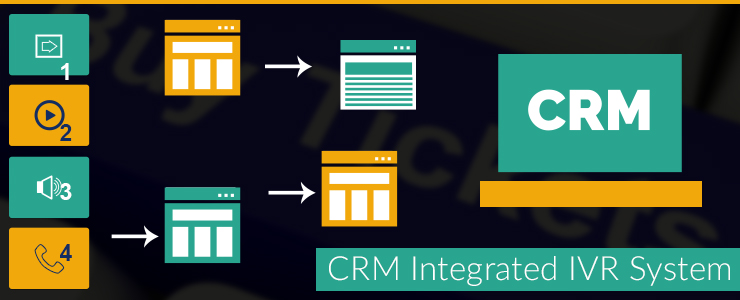 No business can grow without putting their customers in the center in today's challenging scenario. In today's technology-driven time, companies look at the customized IVR solution to offer a call containment to their customers, but then, it may backfire with a boring and monotonous experience as the time advances. Here CRM (Customer Relationship Management) software come into the picture. As the name suggests, the CRM tools are designed to facilitate companies to track social interactions with customers and offer mobile access to data using smart phones. CRM integrated IVR system can provide an easy way for customer lead and record management, order management, customer query management using IVR, and follow-ups.
CRM integrated IVR solution is a robust, scalable, dynamic, customizable and user-friendly way to boost sales by enhancing customer satisfaction. What's more, the cloud technology enables enterprises to come up with a multi-channel approach in CRM-IVR integration for improving customer services while getting secure data access.
How CRM integrated IVR system works
The IVR solution integrated with the customer relationship management software can provide more engaging and personalized services to the customers. The IVR system can fetch the user data available in the CRM to play more personalized IVR prompts. This results in more interactive and interesting user journey. In a way, the customized IVR solution integrated with the CRM system can render better customer services.
When the caller calls on a predefined number (a toll-free or any other given number connected to the IVR system), the system will play a personalized message based on the CRM data and guide the caller through the process.
Who can use CRM integrated IVR solution?
IVRS (Interactive Voice Response Solutions) integrated with CRM can be used by any company under the sun. But, the eCommerce, customer support centers, call centers, and other customer-focused businesses can garner the maximum benefit from an IVR-CRM integration.
Key features of IVR-CRM integrated software
Tailored IVR-CRM integrated software can offer many benefits with the desired features and functionalities. Apart from the basic features like call recording, multilingual support, TTS (Text To Speech) integration, and CDRs (Call Detail Records),  a few of the key features of such software are mentioned below:
Real-time customer data access with VoiceXML support
Redesign existing IVR scripts and prompts
Call control processor with DTMF input support
Incorporated Simple Object Application Protocol (SOAP)
In brief, such software can be designed and developed as per the organization's requirements.
What are the business benefits?
Apart from delivering more personalized IVR prompts, the CRM integration with an IVR system can increase upsell and cross-selling opportunities, especially for the eCommerce business. Companies can significantly reduce the long distance carrier cost and IVR to agent transfer ration thanks to CRM integration. All such aspects collectively translate into improved user experience, goal conversion, and RoI (Return on Investment).  
Conclusion
As a conclusive remark, it is fair to mention that CRM integrated IVR system can make your business more customer-friendly while offering you a competitive edge over your peers. Our experienced IVR solution developers can design a user-friendly CRM integrated IVR solution to address changing communication requirements of your business.