Best Hotel IVR Solution in Canada | Asteriskservice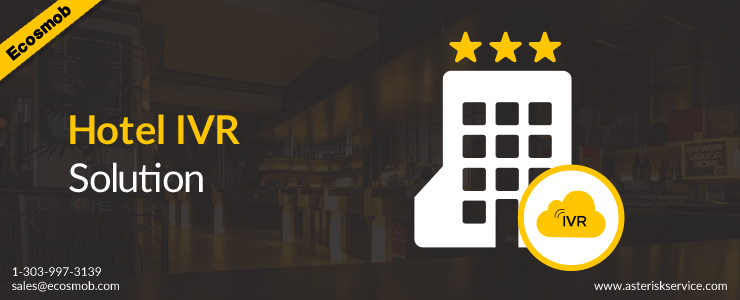 The hotel and hospitality sector in Canada is growing with 75% of visitors primarily from the US. People visit Canada for tourism and for business. The industry generates over $ 40 billion and employs 305000 people across 8253 establishments. Hotels in Canada need to stay on top and offer the best possible service with excellent communication infrastructure in order to deliver an above-average customer experience. Hotel IVR solution for Canadian hospitality resolves quite a few challenges that hotels and customers face.
The Ideal Hotel IVR solution
The ideal Hotel IVR solution would be tailored to suit each hotel's specific way of operating and customer expectations in self-service. Customization that factors in expectations of customers leads to the development of the best hotel IVR that includes all possible features at different points of the customer journey such as
The primary level: This is the stage at which a customer wants to know about rooms, location, amenities, tariffs, and availability.
The secondary level: The customer has taken a decision and uses the IVR's facility to book a room and then he is transferred to a custom IVR payment solution..all without having to interact with any hotel personnel. He receives an automated confirmation, SMS, and email. He may use the IVR to know the precise location and receive driving instructions.
The third level: The client is occupying his room and may want additional services such as wake up call, laundry or other facilities, ability to book a taxi or tour and then use the IVR to check out and settle his bill.
The fourth level: The bill is settled at which point the hotel IVR system requests his feedback and suggestion to help them improve services.
Visual IVR integration helps
In theory, at least a customer should find it easy to use the IVR but as can be seen from the above, there are various levels that may be arranged in the form of various menus to address requirements. This may become frustrating for some. The solution is to integrate visual IVR that can be viewed as a visual menu tree with branching options. A customer can jump straight to the option he wishes to pick for a particular service. If so desired he may simply request a callback.
Making it even better
Customers may be from any part of the world. Imagine a hotel IVR system that recognizes the country code and uses the language of that country to present options. Take it a step further to making it the best possible solution you could want for your hotel by getting the IVR developer to integrate artificial intelligence and CRM. Once a prospect starts the process he could chat with a smart bot instead of pressing keys. WebRTC inclusion could permit a customer to select an option to view the hotel and the room on his smartphone screen prior to booking. Once his data enters the CRM he receives personalized attention. Get these included into the best hotel IVR system, possibly by experts like asteriskservice.com and you offer a delightful customer journey leading to return bookings and loyalty.