Asterisk IVR Payment- Offer Your Customers a Secure and Interactive Payment Gateway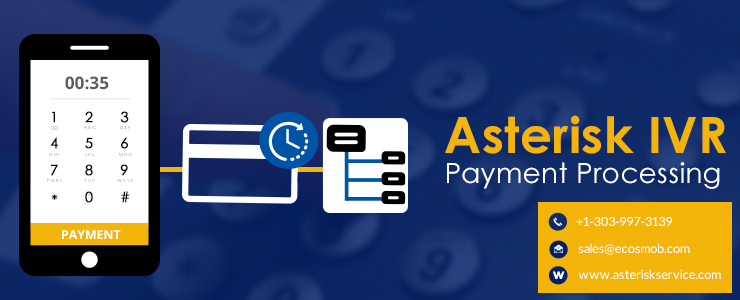 Cyber attacks and security breaches have become new norms in a technology-driven world. Hackers tend to use the Internet for stealing valuable data of vulnerable people, and many companies have faced the sting of data theft globally. Thanks to communication technology advancements, you can use IVR (Interactive Voice Response) payment solution as a safer option to online payment and facilitate your customers to make payment securely through using their mobile phones.
IVR is a proven and time-tested technology for smooth payment experience and it can certainly improve your payment facility for the customers. Since inception, Asterisk has remained as one of the most preferred platforms for developing IVR payment processing solutions.  The blog talks about how Asterisk IVR payment solutions work and benefit your business:
How IVR Payment Processing System Works
Nowadays, enterprises have started embracing IVR system for enabling their customers to make payments through using mobiles because customers can readily provide credit or debit card information through DTMF (Dual-tone multi-frequency signaling) on the move. They don't even require a computer or Internet connection for the same. In a way, IVR payment processing system offers a secure transaction method, and let the transaction be completed with a simple 5 or 6-digit numeric password, aka PIN (Personal Identification Number).
A simple and easy-to-use interface of IVR payment processing software can offer a rapid and glitch-free processing of payments for your customers. What's more, our IVR payment gateway is highly customizable to offer your business more scalability while addressing all sorts of security concerns and are compatible with global standards. We integrate customized call transfer logic as per the requirements of your business and transactions.
Let's understand the mechanism of Asterisk IVR payment processing solution with the help of an example:
Suppose you run an event management company and want to integrate IVR solutions for ticket booking. Now, our developers will develop Asterisk-based IVR solutions for processing payment with the prefixed logical calculation to manage the ticket rates. The payment processing system will automatically count the rate and you can implement this system in your integral system for enabling event ticket buyers to call on a given number. Once the call comes, the customized IVR solution welcomes the caller with predefined prompt followed by other interactive voice prompts. The caller can select the option that is convenient for them and get to the next prompt. After completing predefined prompts, the payment processing IVR solution will process the payment by booking the tickets for the caller and send the notification for the same.
Wrapping up
We develop IVR payment solutions based on Asterisk with multiple security checks to ensure safe payment processing for your customers. You can also add various payment methods in the solution as per your choice and requirements as we integrate custom call transfer logic, multiple data integration support, and multiple payment method support.
It's time to offer your customers a secure payment option anywhere on a 24/7 basis. Asterisk IVR payment solution is a right choice to serve this purpose.