Why do you need Session Border Controller for you VoIP Network :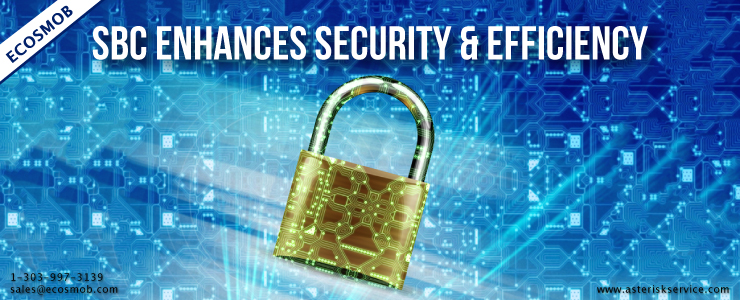 What does it do for You?
"Better Safe Than Sorry"
Would you like to know how SBC enhances efficiency and security?
Session Border Controllers have become a vital part of VoIP solutions. Enterprises deploy SBC's to ensure the security of their infrastructure and have complete control over access to their VoIP services. Did you know that when SIP was designed the one single mistake was ignoring the existence of NAT's itself? The SIP standards had assumed that NAT's do not exist, an assumption which in turn out to be a failure. Hence, SBC's were born to fix what standards had failed to do- security.
Today, we'll like to discuss top reasons how it can skyrocket your numbers and let you be the judge is you need SBC's or not. Let's dive into it.
Robust Security as Prime Motto
Enhanced Performance and Productivity
Reduces Costs of Infrastructure
Saving above 50% of the total Telecom Cost:
Total control over the Quality of Traffic
Filters Content
Refines and Enriches Communication and nullifies Lag period
Rapid and Optimizes Customer Service Quality
Amplifies SIP Truck Service Deployment
Total Control over Access
Dynamic Monitoring over Blacklists and Call Prioritization
Media Conversion
Protocol Normalization
It is absolutely vital to enhance your SBC solutions which reap maximum benefits and save time, infrastructure and cost. SBCs adapted by large enterprises infrastructures or any telecom service providers which enables deliveries to residential, commercial, fixed-line, business, or mobile VoIP services. You may wonder why we should need a security parameter with SBC's since we already have firewalls. Honestly, although the firewalls are in place to perform similar functions. However, both are still from completely different foundations.
Firewalls screens and controls the data from the network and secure the traffic overload to block any sort of malicious activities from entering your systems. On the other hand, SBC's offer stringent protection which blocks intruders on optimized levels even in audio and video streams. Unfortunately, devoid of SBC's you are surely putting your VoIP system at risk of having hackers spy over the financial data or even eavesdrop and execute identity theft.
SBC's are popular to boost protection against vicious attacks such as Fraud activities, malicious attacks through BYOD, RTP flooding and SIPs. A total protection against exposure to network routes and hackers into VoIP systems which might cause financial turmoil.
Protocol normalization refers to the process by which an SBC can ensure two disparate VoIP networks can interoperate with one another. This primarily has to do with the different manners in which the Session Initiation Protocol (SIP) is implemented. Media conversion (transcoding) is an important function of an SBC. It allows two different voice networks, supporting different voice codec protocols, to pass calls to each other.
Session border controllers secure our VoIP Servers and enhance efficiency on great heights. To find out how Asterisk SBC development can help you speak to Asterisk Service Expert today!