Why Asterisk is an Ideal Choice for Call Center Operations?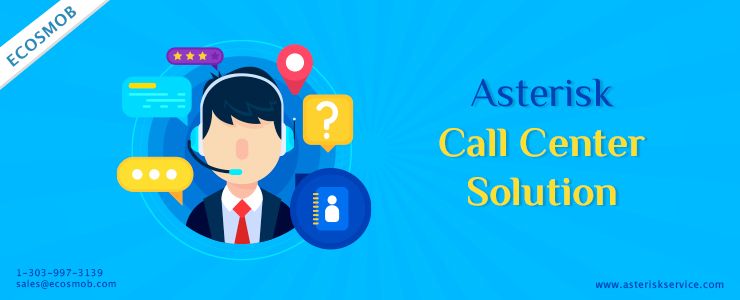 Asterisk is a free and open-source framework that is commonly used for creating communication applications. This open-source platform is widely used by small to large businesses, call centers, government companies, and more. It supports VoIP gateways, IP PBX systems, conference servers, and various other customized solutions. Most often used by developers, Asterisk provides a sturdy base for an entire business phone system. It can be utilized to extend an existing system or to eliminate a gap between systems.
Basic know-how of Asterisk
– Asterisk is open-source software that is created by Digium's Mark Spencer
– It runs on different operating systems, such as Linux, MacOSX, Solaris, NetBSD, and Open BSD
– It comprises most VoIP protocols
– Asterisk comes with an array of Built-in features like conferencing, voice mail, IVR, queuing, and various other standard calling features
– Asterisk can handle virtually any task possible, which makes it highly extensible
Application of Asterisk in Call/Contact Centers
For today's businesses, call centers and contact centers play an important role in communication between the customers and the brand. A call center is a centralized department or branch that handles incoming and outgoing telephone calls from both new and existing customers. The team that handles customer's queries regarding any product or service is usually known as call/contact center agents or advisors. Some of the key functionalities of call/contact center agents include:
– Offering customers support
– Handling their queries
– Carrying out telemarketing
– Conducting market research
Customers these days expect high-quality customer service from the brands that they use. They not only want their issues to be addressed properly, but they want them to be handled promptly and efficiently with the best possible solution. Moreover, customers want an easy way to reach the customer service department on their choice of channel quickly. To keep up with the customer's expectations and to make call center processes smooth and efficient, businesses generally make use of call/contact center software.
A call center software or contact center solution is a system that permits enterprises to run a call canter smoothly and efficiently. Asterisk is one of the most popular call center software used all over the world. Businesses that are looking for an ideal communication system must employ Asterisk for better results.
Features of Asterisk
Some of the key features of Asterisk are:
– Conference
– VoIP Gateways
– Call Forwarding
– Call Monitoring
– Call Recording
– Call Queuing
– Interactive Voice Response (IVR)
– Call Detail Records
– Caller ID on Call Waiting
– Call Routing
– Call Transfer
– Authentication
– Blacklists
– Music on Transfer
– Caller ID Blocking
– Call Waiting
– Dial by Name
– Do Not Disturb
– SMS Messaging
All these features give businesses (small or large) a professional look. It allows businesses to customize or modify the PBX solution based on their specific business requirements. Even new features can be added to this solution and enhance the functionality as well as efficiency. Another best thing about the Asterisk solution is that it is free, which helps businesses to lower their communication costs within the company to a great extent. It helps organizations to save a lot of their development cost, even if they would like to develop it from the beginning.
Why Choose Asterisk?
Asterisk is a perfect telephony platform or solution for call center systems. It allows easy management of all the call center processes by providing support for call recording, live call monitoring, and reporting, call queues, outbound dialing, IVRs, and more.
Being a prevailing hybrid PBX, Asterisk comprises various proprietary PBX features such as IVR, conference calling, voice mail, and Automatic Call Distribution (ACD). It provides a superior telephony platform for all types of call centers with its flawless interface to VoIP. The number of applications available within Asterisk makes it a great choice for the VoIP telephony platform. As it is open source, developers can utilize Asterisk's extension languages to create unique functionalities, which means they can develop various unique and practical phone systems based on the key requirements of call centers. Asterisk can even be used to facilitate the relocation to new phone system technologies.
Conclusion:
A number of enterprises including small and large enterprises all over the globe are employing Asterisk to perk up their business's operations. It acts as an ideal call center solution that streamlines the whole workflow and helps businesses to provide the best possible customer service.