What Do You Get Through Custom Asterisk Development Services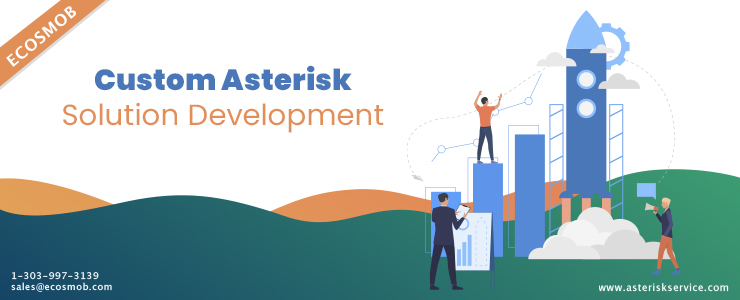 These days you can subscribe to plans or buy software with features that align more or less with what you need for your business communications so is there a need for custom Asterisk development services and what do you get from it?
Dialplan programming
Standard IP PBX solutions may not have proper dialplan setup. This is where engaging Asterisk Development Company for custom dialplan programming gives you benefit of routing and manipulating calls in a contextual way, ideal when you have many extensions.
Phone verification
We are familiar with phone verification carried out by telecom services. You can take a leaf out of their book and include phone verification as an ideal and simple way to verify visitors who register on your website. This way, you can weed out attempts by hackers who use bots to flood your database. Plus, it creates a better impression in the minds of customers.
Click 2 call
Your employees will be making calls routinely throughout the day. Get Asterisk development services to custom develop Click 2 Call for you. It forms an extension of your Asterisk PBX and permits direct calls from the CRM, Helpdesk or webpages. You can also use click 2 call to search for phone numbers and convert them into clickable links as well as receive incoming call notifications.
WebRTC with asterisk
WebRTC offers web browser based audio-video chat and conferencing plus document exchange but it needs API integration. Even then it would work in a different channel. You get WebRTC to work in your current Asterisk based IP PBX or call center software by engaging Asterisk Development Company to carry out integration to marry the two together. It enhances your IP PBX functionalities and allows easy remote collaboration besides customer services. You get automatic session rehydration should internet disconnect or any other reason, session mobility and screen sharing.
Custom direct inward dialing number (DID)
VoIP frees users from the rigidity of PSTN but also brings in its wake the issue of having a specific number like PSTN lines have. The solution is DID provided by SIP vendors but DID needs integration with IP PBX. Engage custom Asterisk development services and you get a specific DID number that can be connected by anyone from anywhere and reach the specific called person. It will automate inbound calls and traffic and even port to mobile numbers. It is a must have when you plan to use VoIP.
Web conferencing
Post pandemic, work from home and remote working are the new normal, a trend likely to continue. Keep up with the times and the change by opting for custom Asterisk web conferencing solution that integrates nicely with your existing IP PBX and CRM. Your teams work better and your customers receive excellent services, making it worth the investment.
Custom Dynamic IVR
You may have a rudimentary IVR with the standard tree-branch structure or you may not have an IVR at all. It is time to get one and when you do, dynamic IVR is the way to go. You can keep track of how the prompts work and keep modifying them based on responses of customers to make the IVR a happy experience. Unlike fixed IVRs, the dynamic IVR can be user programmed. Another vital must have tool in these times of remote working.
Custom Asterisk development means you get exactly the features you want and it is time-saving as well as convenient to use your communication set up. This translates to better efficiency and productivity in a distributed work environment. Choose the right, expert asterisk development service and your communications switch to top gear.