VoIP IVR Trends To Watch Out In 2019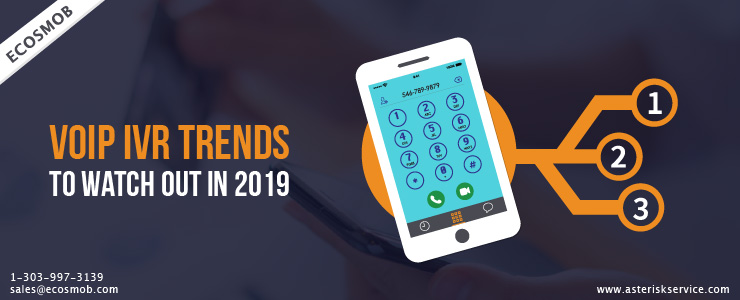 Technology evolution has always benefited the end user as can be seen in smartphones and business communications. Communications is switching over to VoIP and self service with PSTN well on its way out much like the CRT monitor, magnetic tape and mechanical cameras. If it benefits end users, evolution also keeps developers busy but that depends on how capable they are of taking on trending challenges. The VoIP IVR sector is undergoing changes and some trends are worth keeping an eye on for 2019.
5G and faster communication
5G is here (almost) and the internet data flow becomes faster. Speed limitations will not restrict use of video technologies and one may expect faster, crystal clear audio communication over VoIP. Use of video conference and video chats will rise.
Mobility/UC/IVR
Enterprise VoIP applications such as IP PBXs mainly rely on static devices used in offices. 2019 will see mobility take the lead. Mobiles will integrate IP PBX functions, WebRTC video chats and UC technologies in a seamless interface with a degree of self service. How well this performs depends on the IVR solution and the developer. AI implementation will play a greater role in intelligent predictions and actions as well as gauging caller mood and taking appropriate action in the IVR solutions.
85% of customer relations will be self managed
Static menu IVRs have been the bane of self service, more often leading to customer frustration and churn rather than giving any useful returns. AI integrated dynamic IVRs based on Asterisk IVR development will result in a more "user friendly" system that customers will love and adapt to. That AI integration improves it and enables such facilities-friendly translation makes it all the more user friendly. If intelligent, AI enabled IVR can address all issues why should anyone wish to speak with an irrational, emotion governed ill-informed and less than capable human in a contact center?
Can one dream of it? Visual IVR is here to stay
No one dreamt of the smartphone explosion a few decades ago. Now they are ubiquitous. Today, IVRs are associated with voice. Is it possible 2019 and the coming years could see IVR with video? Asterisk IVR dynamic implementations could well rope in more possibilities like tutorial videos and onscreen presentations as well as flowcharts called up through the IVR. Visual IVR is the next big thing to deliver customer delight and achieve higher retention rates.
IVRs that converse
AI in Asvoice-baseddevelopment holds the key to future IVRs that go beyond presenting static voice based options. You could well have an IVR that chats and converses with a caller. The outcome, as one can guess, is better customer experience. Of course, it takes an expert developer on the Asterisk platform and AI technologies to put together dynamic interactive chatting IVR systems in place but then, nothing is impossible.