Top 3 Benefits of Automated Reminder System for Business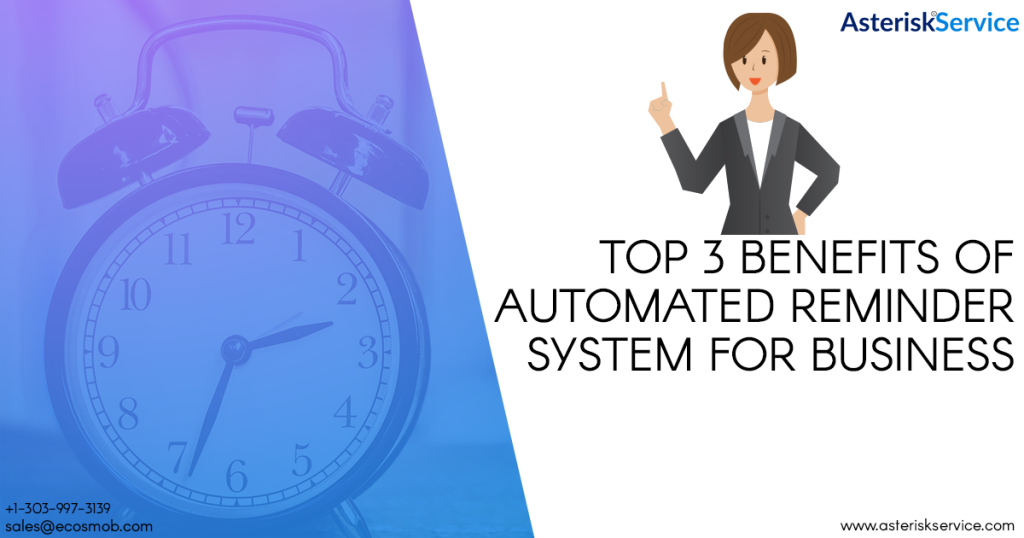 As a business, you need to handle multiple vendors, customers and other business entities. Each of your Company's employees must be engaged with different people and need to have some system in place to give productive work. One of the business task in which many executives are juggling is effective appointment management. Sometimes, there are so many appointments to be taken care of that your executives used to miss a few by either forgetting those or because of appointment conflicts. Here, comes the technology playing role, which will make this task easy and smooth. We have years of experience in Asterisk Development and one of the solutions we offer to our clients is Automated Reminder System.
This solution has benefited many businesses with its easy to use features and functionality. Let's get details of the top 3 benefits of this amazing solution:
 Never Miss Any Appointment
The Automated reminder system will make appointment tracking an easiest task for you and your staff. This solution will make sure to remind you each appointment so you can be ready for an upcoming event without forgetting about it. With our asterisk development skill, we can develop a system, which can have different features to make this a more effective solution. For example:
We can add functionality to send reminders as an SMS, email or fax.
We can add functionality to remind you an appointment at certain times. For example, before an hour of the scheduled appointment.
We can add a functionality to remind you an appointment multiple times at different time intervals. For example: First reminder before 24 hours of an appointment, second reminder before 8 hours and third reminder before an hour of the scheduled appointment.
All these custom features will ensure that you or your employees never miss any important or scheduled meeting.
Easy Management of your schedules and appointments
With our expertise in Asterisk Development, we will ensure to develop a solution which will have an integrated calendar and other utilities. We can also integrate this solution with your current calendar and office utilities. This will eliminates the manual process of meeting, booking and recalling. With this automated solution, the task of scheduling and reminding an appointment will be easier. Now, your staff won't deal with any meeting conflicts. Also, they will not need to spend an hour looking for a free appointment slot to book an appointment.
Don't forget to read about, Appointment Reminder System: Cost Savior for Medical Practitioners
Increased productivity and revenues
As we all know the manual way of scheduling and recalling an appointment can be cumbersome. With the automated reminder system, each task associated with the appointment booking and reminding will be automated. This will save a lot of time of your executives. Also, they will be able to attend each meeting on time. This further contributes in productive discussion to generate business. This collectively works towards increased productivity and revenues for your business.
To know more about our offering, contact us today!