Sophisticated Asterisk Contact Center Solution Redefines Productivity and Quality of Services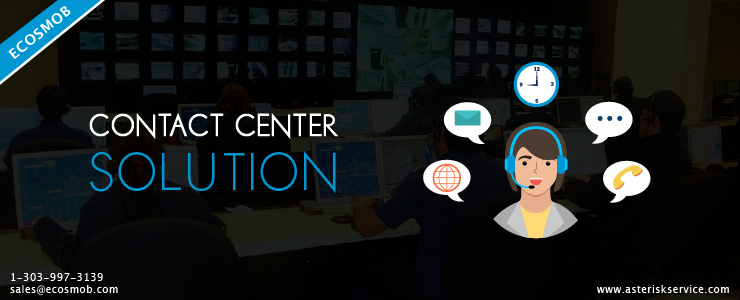 Contact centers must fulfill a variety of customer support functions. Quality of service depends on the people manning the contact center as well as the software. Legacy phone line solutions are just inadequate when customers today initiate a process using any channel and this is where omnichannel support shines. It is the norm today rather than an exception.
Asterisk contact center solution shines in its versatility and ease of use besides advanced features. A single interface allows them to serve customers who may be using any channel. One of the smart features is intelligent call distribution that reduces wait times for callers who are routed to the right person who can handle their case. Customers can just as well access multilevel interactive voice response system for self service. Conferencing is possible in the call center solution that allows people in multiple locations to take part in discussions that results in faster resolution of queries or issues. Whispering and barge-in are the other features integrated into the contact center software that greatly facilitates team work.
Any business that runs contact center operations looks for more than just the customer-agent interaction features in the call center solution. The AI backed software for contact centers does not need specific hardware as was necessary in legacy systems and, what is more, even smartphones can be used for interaction which greatly facilitates work of remote agents. Cost is another consideration. Software costs less than hardware and it is easier to implement. When available as a hosted solution, the costs decrease even more. Another matter of importance is that the solution for contact centers does not work in isolation; it integrates easily with CRM for even better quality of services. Equally important is the fact that not all centers have the same needs and a degree of flexible customization in the software helps achieve better productivity. Not to be ignored is the analytics and reporting side of the software that helps derive business intelligence and insights into customer behaviors and thereby improve services. Installing software is easy but support is crucial besides maintenance and regular upgrades all of which the call center software vendor provides as a routine matter.
Asterisk contact center solution goes beyond normal customer interactions to allow other functions such as billing and debt collection. At the same time office managers and supervisors have access to their own dashboards that allow better scheduling and capability to take action that will enhance workforce efficiency.
With so many proprietary and open source contact center software available it can be a tough task to decide which is best but looking at the comprehensive set of features available at attractive rates in the well accepted open source Asterisk based solution does help in making a well-informed decision.