Six Indubitable Benefits of Asterisk IP PBX Solution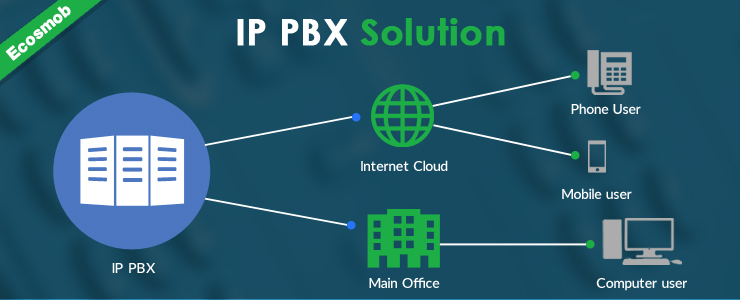 Communication plays a pivotal role in today's business strategy irrespective of company size or business model. From building relationships to enhancing productivity, a robust unified communication system can serve many objectives in the workplace. When it comes to real-time connectivity, no one can deny the importance of IP PBX solution. It offers access to sophisticated and contemporary phone system features and functionality in a cost-effective manner. Custom IP PBX solution is a technological boon that facilitates voice communications using the Internet while eliminating the hurdles associated with the use of traditional phone lines.
Asterisk-based IP PBX software can offer three benefits straight away:
Anywhere, anytime access: Employees can access the office phone system from anywhere on a 24/7 basis

Virtual presence: Enterprises can get virtual phone numbers in cities where they don't have any office

Addition of phone lines: It's easy to add new locations or phone lines with the customized software
Apart from these obvious benefits, an Asterisk-based IP telephone system can offer ten noteworthy benefits to the business. Let's go through them:
Easy-to-install and configure:

As compared to the proprietary phone system, an

IP PBX software

runs on a computer and therefore, it is easier to install and configure using the advanced processing power of the computer. Any networking professional can readily configure the IP PBX system.

Easy management: Asterisk IP PBX solution

has a web-based configuration interface or a GUI (Graphical User Interface) that offers easy management of business telephone system.

Cost savings:

VoIP technology offers affordable long distance and international calls. With a custom IP PBX solution, you can leverage the VoIP technology to stay connected with the employees working at various branch offices. It is possible to make free calls with the solution that results in significant cost savings.

No wiring, no vendors:

Software-based phones can be installed directly on the PC and thereby the requirement of phone wiring is eliminated. Asterisk-based IP telephone system also facilitates your company to add or move extensions as per changing communication requirements. What's more, as IP PBX systems are based on the OpenSIP standard, it is easy to integrate them with any SIP hardware or software phone without the vendor's interference.

High scalability:

As compared to the proprietary telephone system, the IP PBX is more scalable as we can readily handle a large number of phone lines and extension without any additional hardware or plugins. Only a standard computer is all we require to manage the network. In a way, the IP PBX system offers very high scalability.
Improved customer service: An Asterisk IP PBX assists you to offer better customer service as you can integrate both phone functions and business applications with ease. For example, integration with CRM software enables the IP PBX to fetch the customer's records for offering more personalized experience, and that can dramatically improve the customer service.
In a nutshell, we can conclude that you can get twice the features of a phone system for half the price with Asterisk IP PBX software developed for addressing your unified communication requirements. Therefore, investment in a software-based IP PBX can give you a higher return through offering huge savings in management, call costs, customization and maintenance costs.