Six Compelling Reasons to Prove that Asterisk is Here to Stay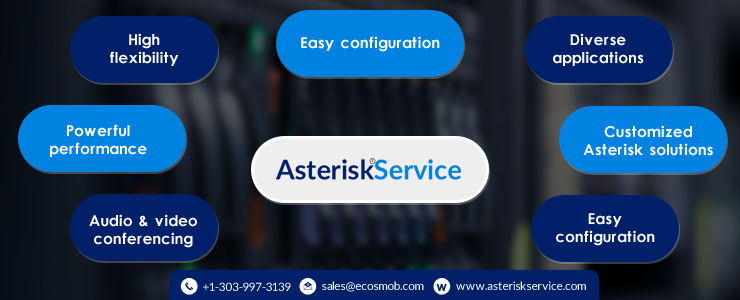 When it comes to the foundational technology for VoIP solutions, Asterisk is considered as powerful software platform meant to serve the VoIP services. Asterisk solutions are capable of providing much of the required functionality for a VoIP product. Being open source in nature, Asterisk is one of the first VoIP software development platforms. It was created in 1999 with the sponsorship of Digium and was released for production in 2005.

Asterisk, the key technology that offers the software-based solutions, has the following attributes, which make it relevant and reliable in today's challenging scenario:
1. High flexibility: Asterisk is one of the most flexible technology because of its open source nature. Asterisk development and designing is highly useful for the up gradation and customization of software as per the changing business requirements. Also, it has surplus features that can improve the productivity. It significantly reduces the communication cost within the company effectively. Asterisk Solution is fairly affordable and saves much of your development cost when you opt for developing it from scratch.

2. Powerful performance: Asterisk is comparatively more mature than its counterparts, and is apt for the task-specific and traditional software requirements. It releases the official performance numbers that improve a number of the concurrent calls. Users can efficiently forward incoming calls to external numbers and the incoming calls will be automatically sent as media files via e-mail, without asking for any permission from an administrator to set up their phones to perform those tasks.

3. Affordable audio & video conferencing: Every company under the sun needs audio and video conferencing to communicate about their daily operations. Using Asterisk Solution, you can remotely access all your offices in the network with the help of a conference calling feature in a cost-effective manner. As compared to other similar commercial solutions, Asterisk offers solution at more affordable rates. You can go through video conferencing asterisk to know more about this feature.

4. Easy configuration: Asterisk installation and configuration is easy because the platform utilizes plain text files in its approach for configuration and dial plan design, which simplifies administration and setup. You can readily get the customized configuration as per your business requirements with Asterisk.

5. Seamless integration with other technology: Customized Asterisk solutions have an ability to expand and integrate with the contemporary databases like MySQL, APIs, CRMs, and other third party software & applications.

6. Diverse applications: Asterisk has a large user base in over 170 countries with more than a million Asterisk-based systems in use. It does provide a versatile platform for extending functionality and advanced features to help the businesses and organizations to grow and look like professional Fortune 500 companies. Diverse applications made by Asterisk can offer open source call center solutions, IVR, IVR payment solutions, IVR software development solutions, webRTC solutions, voicemail to email, call forwarding, auto attendant etc.

In a way, Asterisk is ready to handle the challenges of modern communication methods. The technology offers many benefits to the enterprises while providing them feature-rich VoIP solutions.

Conclusion

Cost-effectiveness, flexibility, and ability to develop diverse applications make Asterisk a preferred choice for the enterprises globally. Asterisk VoIP solutions offer all the features necessary for ensuring the seamless performance of communication solutions, and therefore, there is no exaggeration in saying that Asterisk is here to stay.