Session Border Controller for VoIP Providers – An Indispensable Component in the VoIP Chain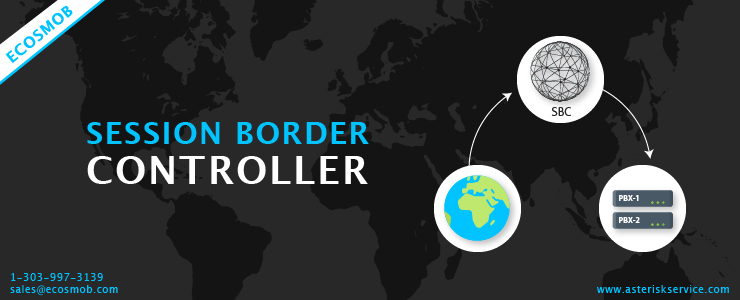 VoIP service providers may assume that implementation of class 4 and class 5 softswitches is all they need to deliver VoIP services to clients. In a way this is true because these two softswitches are at the core of VoIP but there are certain issues such as interoperability, security, media transcoding and protocol mismatches that could mar the experience for their customers. Complaints arise. These could be avoided altogether by including a session border controller in the VoIP chain.
The Session Border Controller, or SBC in short, serves various crucial functions in VoIP networks. While some SBC solution providers implement Kamailio for SBC along with Asterisk softswitches, it is also possible to use Asterisk as SBC for a more cost-effective SBC solution that optimizes network services by introducing a variety of functionalities. NAT Traversal, improved security, protection from signaling attacks, topology hiding and seamless media protocol handshakes are just a few of the advantages of integrating SBC solutions into VoIP networks by VoIP service providers. SBC allows call admission control and manages network bandwidths efficiency besides bridging media and routing calls. One of the advantages is codec transcoding that avoids mismatches and ensures smoother and better quality calls, whether they are audio or video calls. In today's complex network topologies, SBC acts as the bridge. What VoIP service providers will like about SBC software is the more precise billing information and statistics for analytics.
Existing VoIP service providers who do not have a refined SBC solution in place should consider it as an indispensable component of their VoIP installation for all the above reasons. These days more and more users leverage the power of video conferencing and video calls that VoIP offers and, in such cases, bandwidth management can become crucial for quality of calls. SBC manages it all seamlessly while providing seamless network address translation between IPV4 and IPV6. Enterprises use a medley of communication devices and software. It would be chaotic without SBC in the chain at the originating and receiving ends to take care of media transcoding and translation. Users just carry on with conversations, blissfully unaware of all that is going on and thank the VoIP service providers for that smooth experience. One of the most compelling reasons to have SBC as part of the VoIP Setup is that it seamlessly blends WebRTC further enhancing the service provider's branding.
Asterisk Service SBC can be used by VoIP service providers in their own existing setup and while offering VPN services to customers. They can just as well recommend that their customers also implement the SBC for better performance and security. Where VoIP carriers operate across borders and anticipate various topologies and devices as well as protocols and media codecs in use, SBC becomes vital between two reciprocating service providers across national borders.