Say Goodbye to Payment Hassles with Asterisk IVR Payment Solutions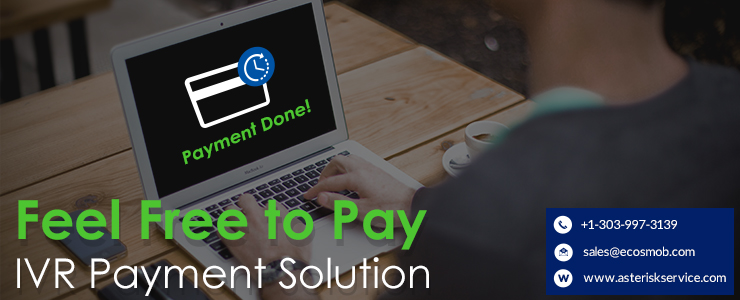 If you're in a retail business or having an eCommerce store where your customers require payment gateways to initiate payment for the purchased product, you require safe and seamlessly performing IVR (Interactive Voice Response) payment solutions. Simply put, any B2B or B2C business, where the online transaction is necessary, you need customized IVR Payment Solutions to offer your customers or clients a safe and pleasant experience while remaining compliant with PCI DSS (The Payment Card Industry Data Security Standard). Here we discuss how Asterisk IVR payment solutions can offer your customers a hassle-free shopping experience through ensuring secure payment.

Automated tools for online payment can serve many purposes for the businesses worldwide. On one hand, they can give a professional touch to the payment system, and on the other hand, they can help companies get customers' trust. The IVR Payment Gateway is one of the automated tools widely used for facilitating online payment worldwide. Asterisk platform is one of the most preferred choices for developing tailored IVR Payment Processing Solutions because of many benefits.

Here are some of the advantages of Asterisk IVR payment solutions for diverse industries:

Offer more control: You can give more control to your customers with an automated self-service while ascertaining secured online payment

Review transactions: You can review and verify the transactions anytime and store the data for future reference

Reduce overheads: It's easy to reduce overheads through establishing IVR payment as customers can make payment themselves

Eliminate human error: Completely automated payment system significantly reduces the scopes of human errors in transactions

Improve scalability and flexibility: 24/7 availability of payment options and the inclusion of all the popular credit cards in IVR solutions improve both scalability and flexibility of your online business

Quicker payment: Online payment is faster than the offline one, and the customized payment processing solutions can reduce the transaction time efficiently while ensuring safety.

Easy-to-use interface: Even a non-technical person can securely transact through IVR Payment System as Asterisk-based solutions have an easy-to-use interface and user-friendly designs.

Advantage of multiplicity: Asterisk IVR solutions support multiple language and multiple data to facilitate your customers irrespective of their country and languages. Even diffrently-abled people can also make payments through using these solutions.

Mobility: Customers can make payments on the move, using their smartphones, thanks to the technological advancement of IVR payment system. No need of the Internet can enable your customers to get rid of inefficient network access.

Because of these benefits, IVR Payment Gateway developed through using Asterisk is widely accepted by many enterprises for facilitating ticket booking, appointment booking, tax payment, and credit card payment. Companies integrate these solutions for removing any hassles associated with the online payment. Some of the key industries that can leverage the benefits of custom IVR payment processing solutions are banking and finance, call center, hotels, mortgage agencies, consultants etc.

At AsteriskService.com, we offer the best-in-class broadcasting, conferencing, and IVR solutions.