How Travel Industry can gain from Contact Center Solution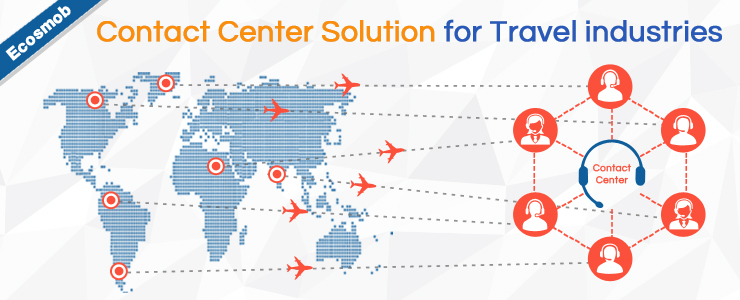 Travel and hospitality industry is thriving as people take an excursion route to get rid of the stress. The travel companies continuously strive to offer a great customer experience to unleash the potential of both domestic and international markets amid growing competition in the multichannel environment. When it comes to improving customer engagement through personalized experience, customized contact center solution comes handy.
Over the years, the communication sector has witnessed a tremendous growth as numerous customers use various devices worldwide for establishing connectivity. As the customers are constantly influenced by the competitors, the travel companies need to come up with aggressive campaigns and excellent customer services while connecting with the customer base to maintain their market value. Apart from offering a safe and comfortable travel experience, it is necessary for the travel companies to provide the real-time communication to their consumers these days.
There, contact center or call center comes into the picture. Travel companies can leverage the benefits of call center for listening to the queries and difficulties of the customers with the help of tailored contact center solution. The call center solution can facilitate the customer care center in managing calls with easy deployment and user-friendly features including answering machine detection, ACD (Automatic Call Distribution), IVR handling, and the like. From ticket booking to payment, the unified solution for contact center can perform various tasks for the travel agencies through getting integrated with all channels of communication like voice calls, SMS, chat, and emails.
Here are some of the key benefits travel companies can offer to their customers with the help of the call center solutions:
No waiting:

Travelers can get a real-time assistance without waiting for a longer time

Personalized notification:

It is easy to notify the travelers personally about the flight confirmation, delay, or cancellation

Reservation status:

The solution can be integrated with a reservation system to facilitate the customers to know their reservation status through a call

24/7 Access:

A traveler can contact the customer care center anytime, anywhere

Priority service:

Priority routing can be offered for premium members and loyal customers
The contact center software can minimize the operating cost of the travel company and accelerates the profits by enhancing the efficiency of your tourism business. Such software can enable companies to offer a pleasing traveling experience to the new-age, tech-savvy travelers.
AsteriskService, an expert contact center solution provider, empowers your travel and hospitality business to deliver the best-in-class customer services as per the dynamic needs of the domain. Our team of experienced developers can address your business requirements while developing bespoke call center software using a robust Asterisk platform. Visit our page to know more about our call center solution.