How Hospitality Sector can Leverage Hotel IVR Solution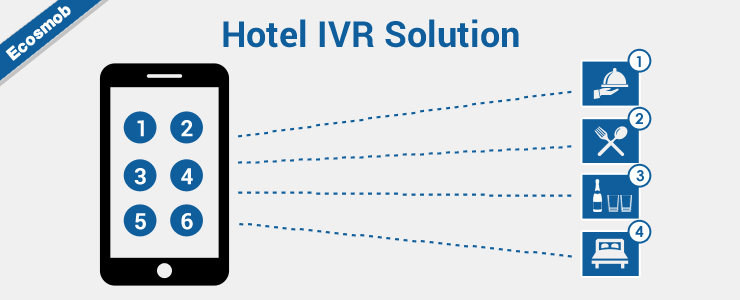 Budget hotels and inns strive hard to cope with the services offered by their more luxurious and costlier counterparts. On the other hand, lavish hotels want to enhance their customer-friendly services to set new milestones. Summing up, the entire hospitality sector is teeming with activities related to customer services, and flourishing as more and more people prefer travels at least once in a year. When it comes to booking rooms or getting a real-time information about any services offered by the hotel, the customized hotel IVR solution always stays by the customer's side while assisting the hotels to win customers' trust.
Interactive Voice Response (IVR) is a name synonymous with a user-centric communication tool for various vertical markets. The lodging business can get the most from this efficient and cost-effective system. Inns, hotels, and restaurants can utilize IVR solution for serving their customers through providing various information ranging from the advanced booking to the status of ordered food.
Different types of IVR solutions for hotel industry are available, which are customized for addressing various requirements of hotels. For improving guest experience to creating a bigger impression, such IVR solutions can assist hotels in many ways.
Some of the noteworthy business benefits of hotel IVR solution are mentioned below:
Personal touch with professional greeting

– An IVR solution can play a predefined welcome prompt in a very warm voice and professional manner. It can create a better impression of the hotel in the minds of callers who are either existing or prospective customers.  

Say 'No' to missed calls-

In the hospitality industry, a missed call is a missed opportunity. As an auto attendant, the

hotel IVR solution

can handle multiple calls and the hotel can utilize their staff in other productive operations. The IVR software can handle calls on a 365*24*7 basis.

Offer information on the move-

A mobile phone is what the customers need to access the hotel's booking and other related information using the

hotel IVR software

. The IVR solution for the hotel can respond the customers in a self-serving manner and people can get the information on the move with ease.

Facilitate booking and payment- One of the best features of an IVR solution is it can readily integrate with the existing communication system and other software like CRM (Customer Relationship Management), ERP, etc. A room booking IVR solution and IVR payment solutions can facilitate room booking and payment respectively for the customers.
Apart from room booking and payment, the hotels can use IVR solutions for having feedback, suggestions, and ratings in an interactive manner.  
Hotel owners can take their hotels to the next level with the help of tailored IVR solutions. They can handle the complexities of booking and payments effectively with the help of bespoke IVR software. Some of the key features of hotel IVR solution include billing reminders, booking status, staff reminders, voicemail support, recording, email, fax, and SMS integration, and the like.
At AsteriskService, it is our endeavor to offer customized IVR solutions for addressing changing requirements of SMEs and big companies. We provide cost-effective business communication solutions using the Asterisk platform. Visit our Hotel IVR Solution page to know more about the tailored IVR solution developed categorically for the hospitality sector.