How Custom Asterisk Solution Development Is Beneficial For Businesses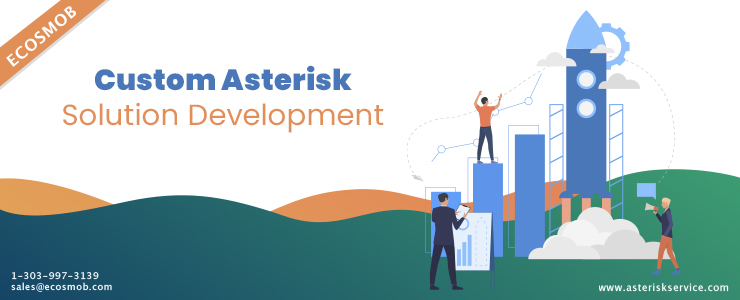 Asterisk is an open-source framework for creating communication applications that can turn a computer system into a communication server. Custom Asterisk solutions powers IP PBX systems, conference servers, VoIP gateways, and more. Call centers, large businesses, small businesses, carriers, and governments worldwide can use Asterisk development.
It is one of the most well-known open-source PBX platforms. Various voice-enabled applications often choose Asterisk because it has flexibility, and is easy to use. It supports different protocols and codecs but, sometimes its existing features are not enough as per the requirement of customers.
You can customize it as per your requirements, and it offers flexibility to work with various vendors, and this is the beauty of the Asterisk open source project. There are more than one million 1000K Asterisk-based communication solutions in use, spread across more than 170 nations.
Benefits of Asterisk Solution Development
The VoIP based solutions are gaining a great deal of popularity in the global business sectors due to a wide array of benefits and innovative communication features offered by the VoIP based solutions such as call center solution, VoIP telephony system for business, voice broadcasting solution and more.
A general trend of getting VoIP solutions is to buy a system that is ready to use. The custom Asterisk solution helps get the best VoIP solution that can benefit your company in many ways. In this blog, we have shared the top three reasons to clarify why custom Asterisk solution can assist businesses:
Total control
On completing the Asterisk development on VoIP systems, you will get all the power to customize your system. You can make any modifications in the system or add or remove any characteristics of it, unlike the ready-to-use product in which the characteristic inclusion, removal, etc., are controlled by the development firm.
Absolute ownership
You'll get a white label solution once you implement a custom made omnichannel communication system with Asterisk Development. You will have every right to control the functionality of the network.
You are not bound to one seller for any future needs. Additionally, you are not affected by the changes in terms and conditions as here you are the owner of the Asterisk alternative produced by the product proprietor.
Tailored Solution
When you get Asterisk development, you can get a tailored solution to your company requirements. It will have attributes and the flow as per your organization model, unlike the ready-to-use method.
What do you need to know to use Asterisk?
Highly experienced developers create the custom Asterisk solution. You will require working knowledge of script programming, Linux, networking, and telephony to build applications and solutions with the Asterisk framework.
Wrapping up
Asterisk development is one of the best communication solutions. It has a wide range of benefits, and you can build several solutions and applications with it.