How can Asterisk Payment IVR Solution be Beneficial for Business?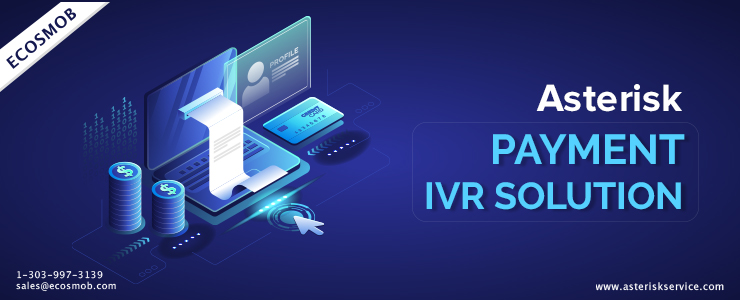 Asterisk Payment IVR solution lets you make a payment without using the internet. It helps transfer the money and the completion of your debit or credit card or net banking transactions. It makes sure that your payments are secure and effortless.
The Asterisk IVR solution is a very advanced solution that offers high security and amazing customizable features as per the company's requirement. Along with letting customers make a payment from anywhere, it also reduces the company's burden and makes the payment processing smooth.
Key features of Asterisk Payment IVR Solution come with many added features.
Some of the features include:
Customers can make payments round the clock with the help of their custom automated voice. It makes it easier for the customer to make urgent payments.
Asterisk's voice-enabled payment solution interface is easy to use and integrates all major payment services.
Asterisk payment IVR solution ensures integration with all the web and mobile business interfaces. Thus making it easy to be used from any platform.
They provide multiple data integration support.
They support multiple payment methods, including net banking and debit and credit cards.
They support multiple languages. It makes it easier to use it for people whose first language is not Hindi nor English.
They customize call transfer logic based on business and transaction type.
Benefits of Payment IVR solution
Asterisk Payment IVR solution comes with multiple benefits for businesses. Some of those benefits are:
It lets you give more self-control to your customers through automated self-service.
Any transaction made can be reviewed and verified immediately. It enables you to make immediate corrections, if necessary.
Helps in reducing overhead costs through self-serviced payments and inbound payments call.
It encourages more transactions with its round the clock payment system while generating more business.
It helps in making customer relationships better because of its flexibility and ease of payment.
It allows you to delegate your customer service staff to other important tasks.
It lets you take advantage of business scalability.
It reduces the scope of human error in transactions.
It enables quicker payment and reduces the delayed time.
It offers a wide range of payment options, including payments from the savings bank account and debit and credit cards.
Final words:
In the current times when there are times when the internet goes off, and you need to make an urgent payment, what will you do in such a situation? You might say that you can go to the bank, but what if the bank is too far.
In that case, you need a service which can help you with the urgent transfer of money. Asterisk IVR payment solution comes in handy in such times. It offers several benefits and features to make payments easier and bring them as close as just a call away. It even ensures secure payments.
After analyzing all these benefits and features, it's hard to deny using this payment solution and enhance your business growth to the next heights.