Hotel IVR Solution That Meets Needs of Hospitality Industry in Current Scenarios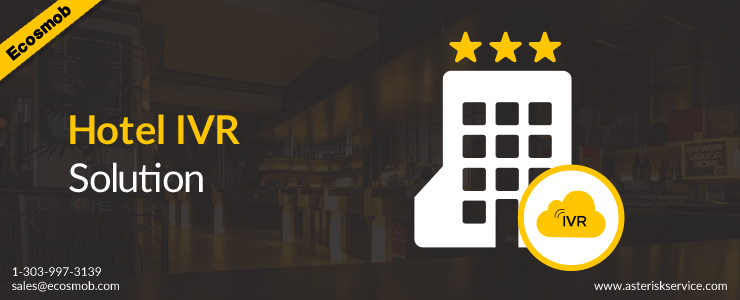 The internet has certainly changed the way people travel. VoIP communications have further impacted the hospitality industry and facilitated customers looking for tickets or hotel bookings. There is no lack of choices. Hospitality industry is competitive in the extreme. Hotels implementing Hotel IVRs need to look at a system that is comprehensive and takes care of all possible use scenarios.
The hotel IVR solution starts with the provisioning of a separate number equipped with IVR facilities that factor in virtually all possible queries a caller may raise. Experts in IVR development break down the information into manageable parts such as providing complete details of the hotel including its addresses, rooms, tariffs, amenities and related queries. Callers may wish to know about room services, booking process, cancellation or bill payment. Hotels may include IVR to have options for suggestions and feedbacks as well as ratings to know how well satisfied customers are with their services. That is about the front end interfacing with clients. What about the backend?
A dynamic IVR solution for the hospitality industry includes reminders for staff, lists booking status, prepares departure and billing reminders among others. These can include flexible options for email and SMS integration, text to speech, call recording, multilingual support and reports. A helpful feature that one can look for is driving directions to the hotel for people who are not familiar with the city.
The question is should hospitality industry adopt VoIP and IVR solutions when manpower is cheap? Hotel and hospitality IVR solutions are becoming more sophisticated and refined, almost smartly intelligent enough to handle most routine queries and transactions. It can automate procedures and keep track of callers as well as those who have made a booking with proper follow up that human staff cannot. Cost is low and returns are high. Manpower in hotel can be employed for better purposes and thus remain free to resolve more critical or complex problems or look after services that raise quality levels. Customers these days do not like to be kept waiting or suffer deficiencies in primary services such as simple availability of information. They will take their business to the next best serving hotel.
IVRs in hospitality environment lead to analytics that the hotel can use to identify deficiencies and introduce improvements that ultimately translate to greater occupancy rates and return customers. It is a one time investment with recurring returns. Asterisk Service offers the most comprehensive and complete IVR for the hospitality sector.