Five Major Business Benefits of Web Conferencing Solutions for Sales and Marketing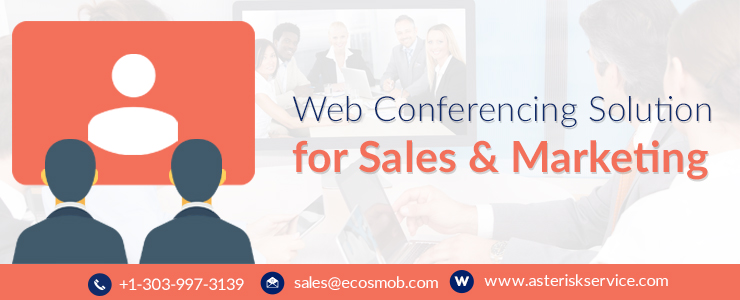 From promoting products or services to closing the deal, salespersons remain engaged in a plethora of activities for boosting the sales figures. One of their major objectives is to establish and maintain business relationships with the existing and prospective clients. There, business communication comes into play. Now, traditionally, salespeople were used to traveling from one to another destination for connecting with prospective customers. Such business expeditions were proven costly for the companies regarding the spending of time, resources, and money. Thanks to technological advancements, today, the purpose of establishing one-on-one and one-on-many communication is served by conferencing software solutions.
Asterisk is an open source platform for developing customized web conferencing solutions and offers cost-effective solutions to address all the conferencing requirements.
Read on to know how enterprise web conferencing software solutions can benefit sales and marketing industry.
In today's competitive business scenario, enterprises need to have a global presence to cope with the challenges and ever-changing requirements. In such a case, it is more likely that a company has different sales teams working across various international branches. It is necessary to manage collaborative efforts of all the sales teams working at different offices for improving the overall performance. Asterisk web conferencing solutions can enable companies to arrange team meetings in a seamless manner where sales persons can present information through Excel sheets, PowerPoint presentations, and various other applications. They can also share desktop and applications for effective verbal and visual communication.
Internal training sessions
Regular training sessions are essential to make sales and marketing executives ready for the changing marketing trends. Also, such training sessions can sharpen the marketing skills of executives and give an opportunity to discuss the problems and get their solutions. Web conferencing solutions can enable companies to arrange internal training sessions anytime and salespeople can take part in it even though they are out of the office or on the move.
Client-Facing Sales Demonstrations
Demonstration holds a key to success when it comes to client acquisition. Real-time or live product or service demo can be offered through a web conference. The clients, who stay at the remote places, can directly communicate with the key persons for any queries while watching sales demonstrations through a web conference. What's more, they can have a sales demo with the comforts of home.
Interactive Creative Sessions
Apart from sales-related webinars or training sessions, the modern-day business compels companies to arrange interactive sessions to bring out the creativity of the employees while motivating them. Such creative sessions can work wonder if organized smartly, and web conference is the best way to arrange them. All the employees from different parts of the country or continent can participate in interactive sessions and utilize their talent.
Marketing webinars are necessary to update marketing executives with the current trends and enable them to enhance productivity through collaborating efforts. Asterisk web conferencing development enables companies to arrange such webinars through the integration of related features in the conferencing solutions.
That's not all! Customized web conferencing solutions also allow employees to meet at desired time irrespective of place, and enable companies to hire the best talent in any location as per the remote working concept for promoting company's products and services.
AsteriskService is a renowned name in offering customized Asterisk web conferencing solutions. Visit our website to know more about our custom IVR, conferencing, and SBC solutions.