Carry Out Promotion Campaigns With Asterisk Voice Broadcasting Solutions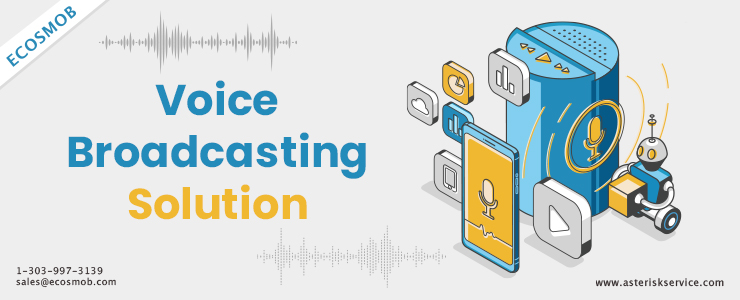 Whichever way you look at it, advertising and promotions are expensive but something you simply cannot afford to ignore. You need not spend millions on TV campaigns, newspaper campaigns, and trade show blitzes. You can carry out promotions easily with Asterisk voice broadcasting solution and reach specific targets with more effect at a lower cost.
Why Asterisk
Asterisk is one of the oldest, tried and tested open source VoIP platforms with a host of telephony and communication features that include:
– IVR
– Text messaging
– Telephony
– Fax and others
Importantly, it has features that make it ideal for voice broadcast for promotions and advertising such as:
– Auto redial, answering machine detection
– DNC and opt-out
– Custom contact list
– Ability to handle IVR scripts
– Personalize voice messages
Even more important is that Ecosmob is working on Asterisk and Freeswitch platforms for nearly a decade and has a whole library of codes and modules that can be put together to create custom voice broadcasting solutions in a snap and at affordable rates.
How do you use voice broadcasting solution for advertising and promotion?
– The first step is to get Ecosmob Asterisk voice broadcasting solution and link it with your CRM. You are good to go.
– Select a list of targets from your phone dtabase in the CRM. You select numbers by demographics, age, income, and location.
– Record a voice message or use text to speech facility in the voice broadcasting solution.
– Configure your IVR to broadcast the voice message at the selected time.
– Include a call back number so that those interested can respond immediately.
– Initiate the outbound voice broadcast advertising and promotion campaign.
– Collect responses, respond to them, and analyze the campaign.
You can schedule calls according to time or other factors and put in qualifiers like answering machine detection.
Voice broadcast campaigns are more effective
From the cost point of view, a TV ad can cost you hundreds of thousands for a 10-second spot. This is not taking into account the cost of producing media. Unless you have funds to sustain the campaign TV advertising is just money down the drain. Plus, your ad may not be seen by target audiences.
Voice broadcast has quite a few advantages:
– Almost nil cost of producing the voice message
– Target specific audiences and be sure that your message reaches them quickly and are heard.
– You give them the option to respond that TV, print or radio does not.
– You can keep track of campaign outcomes and refine your strategy.
– Conduct any number of campaigns and sustain them because it costs so less.
Ecosmob offers custom Asterisk voice broadcasting solutions developed specifically to suit your advertising and promotion goals. You get an easy to use dashboard that makes setting up campaigns a breeze and you can schedule it to run without human monitoring, saving manpower costs in the process. In addition, you can use the same setup to send out surveys and reminders. You can get more information by phone on 1-303-997 3139 or 91 7778842856.