Asterisk Voice Broadcasting Solution for Schools And Why It is So Necessary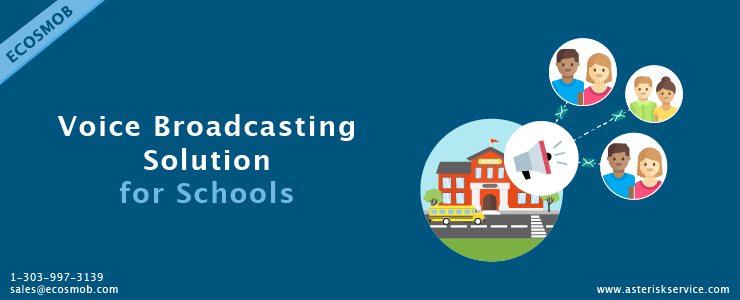 Voice broadcasting and automated SMS messaging is finding widespread use in schools and with good reasons. Schools have large numbers of students and reaching out to them or their parents by calling them individually is a difficult and time consuming task. A voice broadcasting solution helps administrators as well as teachers communicate with students and parents quickly and efficiently.
Students may come for studies from quite some distance. They may arrive by public transport in some cases while parents may drop them off to school. If there is an emergency and the school is closed due to weather or disturbances then the quickest way to send a message to parents and students is to employ the voice broadcasting solution. The same system may be used to send out personalized messages such as reminder to pay fees or to attend events or to inform about developments all of which can be done in an instant. If there is a change in the exam schedule, for instance, school administrators can inform teachers as well as students. These are just a few use case scenarios where voice broadcasting solution with integrated SMS can be a boon to reach out to recipients who may have standard telephones or mobile phones. This type of modern communication definitely helps schools to build better relationships with parents and come across as a caring institution.
One of the finest such solutions is the Asterisk Voice broadcasting solution that leverages the power of Asterisk, a free and open source development platform with superb features and enhanced functionalities. Voice and SMS broadcasting based on asterisk incorporate auto redial, answering machine detection, call report notification, DNC and opt out, import of contacts from databases and personalize messages for each recipient.
Schools may worry about costs and the hardware implementation needed to deploy the voice broadcasting facility but if they find the right developer, they can get customized solutions that make use of existing IT infrastructure with only minor additions. Such a solution does not need extensive training since the user interface is intuitive and easy to understand by anyone to create lists of recipients and create custom voice messages with text to speech facility. Asterisk is open source software with advanced features as well as ease of use which means it is affordable and since the Asterisk community is always contributing to improvements, school administrators can expect a solution that will always be the latest.