Asterisk Session Border Controller: Simplify And Secure Communication Solution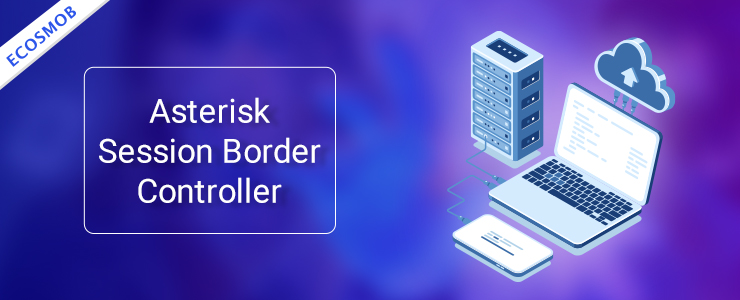 A Session Border Controller or SBC is special-purpose equipment that protects and manages IP communications streams. As the name suggests, session border controllers are extended at network borders to control IP communications sessions. Originally considered to protect and control VoIP networks, SBCs are now used to manage and monitor all sorts of real-time communications such as VoIP, IP video, text chat, collaboration sessions, and many more.
Here are the top reasons that indicate why to choose Asterisk Session Border Controller solution for business communication.

Optimal Connectivity
SBCs connect the company's communication infrastructure to the public internet through a hosted Private Branch Exchange (PBX) service provider or a private vendor network. They have recurring critical roles in managing and securing the network. Businesses can use SBCs to route their call traffic via internal IPs rather than conventional circuit phone networks; it saves time and money.
Ultimate Safety
Once an SBC detects a possible threat, it can instantly block the problem. It then reports the Central Processing Unit (CPU). It means that software backed up with SBCs has zero data breaching possibilities. Moreover, it is simpler to install all updates and patches. Owning up-to-date systems backed with an additional layer of security from SBCs are critical to preserving VoIP solutions safe for business.
Superior Quality
SBCs improve call quality and ease of use. They enable the PBX to be positioned on the LAN with a private IP address, they normalize hosted PBX signaling between the PBX and the service provider, and they present vital routing abilities. It guarantees the interoperability of VoIP and video devices, testing VoIP lines, monitoring call quality, etc.
Continuity
When it comes to voice systems, firewalls just are not sufficient to prevent attacks. Business communication should be protected, hence, SBCs are critical to preserving businesses' communications systems. It helps against DoS attacks, that can intrude phone calls and video conferences, listen on calls, seize important information, or infect systems with malware or viruses. If a system is affected with malware, it can be down for an unascertained amount of time, delaying an organization's ability to conduct business, thus creating big troubles for an organization.
In short, SBC Solution Development helps businesses in many ways to protect important data and improves communication. Besides, it eliminates the need for infrastructure, assures regulatory compliance, boosts overall data security of a business.
Want to develop a Session Board Controller solution for your business? Get in touch with us. At Ecosmob we employ Asterisk SBC solutions with robust security features and functionality that prevent resource damage. Also, its built-in firewall shields your business from vulnerable DDOS/DOS attacks. Our dedicated team uses its expertise and experience to deliver the most suitable SBC solution that empowers business communications and strengthens the security system. Connect with us now to explore how we offer the exceptional SBC solutions powered be Asterisk technology.