Asterisk Payment IVR Solution Improves Collections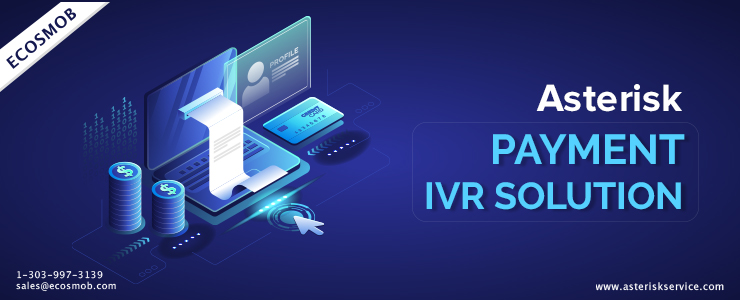 Larger enterprises and service organizations that serve hundreds of thousands of individuals find that timely collection of payment is a challenge. The situation can be resolved in a single stroke by the implementation of asterisk payment IVR solution. It automates payment collection and speeds up the process too.
Automated reminders
Tying the payment IVR into your CRM is a trivial task the Asterisk Service can carry out for you. This done you can simply set up outbound calls and dialing rules for the payment IVR with a suitable message. The message gives targets the option of pressing a key to enter the secure payment mode through the IVR payment gateway itself without any human intervention.
Automation reduces the burden on your employees and the consequent delay manual calling entails. Lack of human intervention has another benefit too.
Customers like the security of IVR payment
Customers are understandably wary of parting with credit card details to a human agent. There have been instances of fraud. The IVR payment transforms all key inputs into code that cannot be decrypted or accessed. There is security. Customers can make payments at their convenience and have peace of mind.
Any time payment
When you program an IVR to send out cold calls to prospective targets for marketing purposes you may want to do so at a time when they are more receptive. With the IVR payment, you can follow the same pattern or program the IVR to send out reminders when targets are likely to be at home and are free to take immediate action to make on the spot payment instead of deferring payment to when they find it convenient.
Secure payment, immediate confirmation
IVR payment improves collections since customers can make the payment from the comfort of their home or wherever they are located. They do not need to visit the office or the bank or issue checks. It is a direct bank to bank transfer with the IVR issuing an immediate confirmation text message followed by an email as well as the generation of a receipt. Plus, the entire transaction goes into your IVR-CRM combine and from there to your accounts. You will see fewer instances of reminders being sent when payments have been made. You avoid friction and misunderstanding. In addition, should there ever be an issue, you have complete details of each transaction for fast resolution.
Asterisk Service provides the complete IVR payment package with CRM integration and support to help you speed up payment collections.