Asterisk IVR Solution Development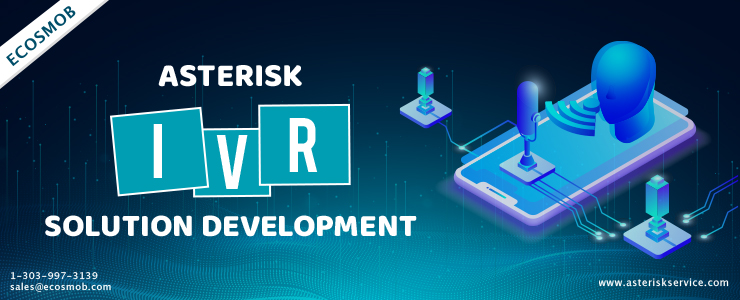 Telecommunication is an important mode of communication for the smooth operation of businesses. Therefore, companies are always in search of tools and software that can assist them to offer better call experience to their customers. IVR (Interactive voice response) solution is an innovative gift of technology and can help them in offering better call experience. IVR software is nowadays used by almost all private and government organizations that deal with queries of customers via call. This has led to an increase in demand for IVR solution Development. Let us have a look at detailed information on IVR Development.
What is IVR?
IVR or interactive voice response is a computerized calling system that allows a phone caller to choose from a voice menu by taking the help of voice responses or touchpad. In IVR, the customer goes through pre-recorded voice messages and chooses an option from the array of options available. There are two types of IVR. Single level IVR and Multi-level IVR. In a single level, IVR customer has to wait in the long queue to get connected to the agent, but in Multi-level IVR the user gets an option to choose from various audio prompts to get connected to the concerned department and agent easily without wasting time. Multi-level IVR provides excellent customer satisfaction and increases productivity.
Applications of IVR:
There are various applications of IVR. Few of them include-
1. Lead generations and capture
2. Survey of customer service
3. Employee evaluation and testing
4. Recording and message services
5. Credit card processing
6. Inventory confirmation
7. Accounts status
8. Stock orders
9. Market research
10.Voice mail processing
Benefits of IVR systems:
IVR systems can be used to manage various services, including order placement, telephone banking, routing, airline ticket booking, and balance inquiry. A custom IVR solution Development offers an array of benefits to customers including:-
1. It helps businesses to be connected to their customers round the clock.
2. It assists the caller to get connected to the right person or agent for query solutions.
3. It offers an automatic response to the queries of customers and helps the company in developing its brand value.
IVR systems are highly beneficial to companies. Therefore, the demand for IVR solution Development has enhanced aggressively. If you are also searching for IVR Development services, then get in touch with us at Ecosmob Technologies private limited to customized IVR software as per the requirement of your business. We also offer installation guides and provide training to use IVR software more effectively.