Asterisk Information IVR System Transforms Businesses into Information Hubs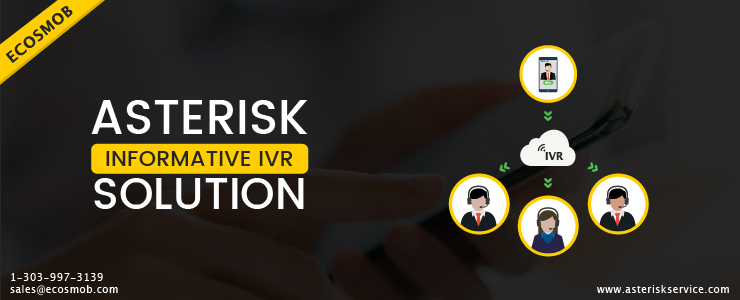 The interactive voice response or IVR system is the reason why millions of banking customers receive the information they are looking over a phone call, after being guided to select options by a pre-recorded voice message. From greetings to giving messages and prompts to make users key-in numbers or select specific options of touch-tone based dashboards, the IVR systems are nothing but portable 'agents of information'.
The simplicity and lack of complexity of the speech-based and touch-tone based informative IVR systems has triggered a major uproar in the international markets. In the U.S. alone, the combined market for cloud and on-premise IVR systems is expected to reach $5.4 billion in the next five years, at a CAGR of 6.8 percent between 2017 and 2023. Many third-party software vendors are partnering leading communication systems providers to facilitate IVR development within the businesses and enterprises community.
Solution providers of open source communication systems such as Asterisk IVR are accelerating the growth rate by aiding airlines, banks, IT enterprises, hotels, tourism, public transit systems and hospitality businesses deliver timely, relevant information to end-users without any difficulty. The free and open source Asterisk IVR software allows its customers to simply convert their existing communication hardware into superior, feature-rich voice communication server.
How Does the Asterisk Information IVR Function?
The Information IVR system can function as a 'knowledge base' for end-users that are looking for information on companies, locations, places, tourist attractions, public transit schedules, cities, etc. The information IVR automates the entire information delivery process by feeding all the relevant information to the system beforehand. When the users with a predefined number give a call, the IVR system will assist them by furnishing the needed information and other predefined options.
Hospitality, Transport and Tourism Can Benefit with IVR Systems
The information IVR software can be used for handling inquiries, make or cancel bookings and manage other requirements in the airlines, tourism and hospitality industry at cost-effective rates and means.
The tourism industry, in particular, can attract attention by allowing travellers and tourists with the convenience of exploring places without guides. Through the information IVR, they can receive accurate information about places like fun facts, historical and archaeological information, nearest hotel, restaurants and other facilities.
Uses of Asterisk Information IVR in Enterprise Community
Apart from banking, finance, insurance, telecom and IT companies, enterprises, field service businesses, supply chain and logistics companies too can reap the benefits of Asterisk IVR. The system is loaded with a host of features which makes it versatile in fulfilling needs of various business and enterprise customers.
The information IVR has a database and CRM integration including Salesforce. It can also send custom IVR prompts, convert text inquiry into speech, record calls and send custom reports. The voice recognition support and user-friendly admin panel enable the system to engage better with its old customers. Also, the fax and SMS integration feature of Asterisk information IVR makes it the complete solution stack to serve customers with automated information.
Below are some of the core benefits that Information IVR systems can provide:
– 24/7 customer support even without internet connectivity.
– Can serve customers in large volumes and address inquiries.
– Improves customer engagement and satisfaction levels by allowing quick interactions
– Ensures better usage of manpower and infrastructure resources.
– Increased ROI
Stay tuned and watch this space for more news on IVR systems and software integrations.