Asterisk Call Center Solution A Superior Communication Platform for Businesses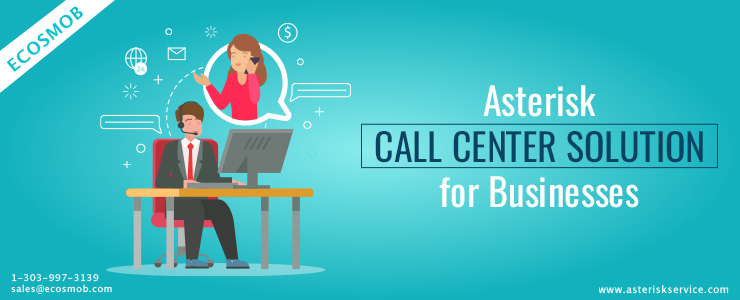 The first thing a business needs is a communication platform. You can go the IP PBX route which is fine for most people. Then you have the call center software communication option, which could prove to be a far better choice given its rich feature set. You can do much more to deliver excellent customer experience using the contact center solution from Asterisk.
Everyone becomes an agent
Keeping customers happy is a priority. Customers may talk to someone lower down in the hierarchy but matters may need to be handled by a senior executive. With call center software in place, everyone becomes an agent and can view activity on their monitor besides being able to transfer calls, call up customer records and engage better for first call resolution, whether it is a lead or an issue raised by an existing customer. The software's barge-in, conferencing and supervisor-client window feature come in useful to facilitate combined interaction with callers.
Everyone can access from anywhere
It is just as important for everyone in the business to be accessible not only to customers but to each other, regardless of where they may be located. It is important for any employee out of the office to have access to the communication system. The solution is hosted call center software that gives any time, anywhere access, even using mobile devices. The hosted contact center solution is perfect for startups and for established businesses with multi-branch operations. Everyone external to the enterprise can access you anytime using the built-in IVR system—you give 24×7 access to callers! You can define direct inward dialling so that a call goes to a specific person and, if not available, to the next person in line.
Campaigns and surveys
Call center solutions feature autodialer and the facility to implement a campaign based on your CRM's contact data. Plan one and let it run. Assign one or two employees to handle responses. You can plug in SMS or voice broadcast feature into the call center software and further enhance direct reach campaigns to existing customers to ensure loyalty or to new targets in order to generate leads.
Reports and analytics
Call center solutions feature reports and analytics. You can analyze past records and pinpoint specifics of issue resolutions or how much time is spent by each one on the phone and the outcome. This can help you to reduce time wasted on conversations by training everyone to speed up matters. You can access reports for campaigns you initiate and derive data to drive product or service improvement. The call center solution is more than just communications; it empowers improvements.
Everyone on every channel
Today, most contact center solutions give omnichannel access. This brings about a quantum improvement in engagement with customers. You can react or proact on social media, switch to email, fax a customer, send out SMS or engage in chat right from your dashboard. It is not just external interactions that matter. Your employees too can interact with each other on any channel. Omnichannel makes communication fun and that means everyone in your enterprise will love to engage.
Whether you choose IP PBX or contact center software you will find that communication is over IP networks so call costs will be pretty much the same but what you get is other extras that the PBX lacks. These extras make all the difference to your business.