Asterisk 15 is here- Focus on WebRTC and much more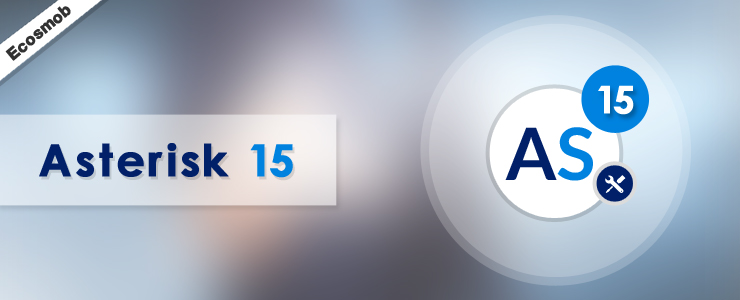 Asterisk is a robust open source software platform and capable of handling business communication requirements with user-friendly features and a seamless functionality. On October 3, 2017, Digium, the creator of Asterisk, has released the next great release- Asterisk 15. This version is in the line of previous releases Asterisk 13 and Asterisk 14 and focuses primarily on serving two main objectives- multi-party video conferencing and WebRTC. The WebRTC support is different in this version than the same in Asterisk 14. Let's go through the key specifications of Asterisk 15.
WebRTC-based PJSIP Configuration Option
The change in WebRTC specifications and functionality has compelled Asterisk to bring new or different configuration options. In Asterisk 15, we have a new "webrtc" configuration option that can enable the required configuration options at the PJSIP endpoint after setting it to "yes". The only exception is DTLS certificate information as DTLS options need to create certificates manually.
The new configuration option can control all the configuration options that are necessary for WebRTC.
Other noteworthy specifications in Asterisk 15 are:
BUNDLE Support- It is added to improve the call setup time. It allows multiple negotiated streams (like audio and video) to use the underlying transport. With "bundle" option, the support can be enabled manually and the "webrtc" option enables the support automatically.
ICE- The bundle support has reduced the ICE negotiation time for multiple RTP streams by decreasing the negotiation to one. The call setup time is decreased in audio and video conferences.
DTLS support- It takes benefit of the BUNDLE support and reduces DTLS negotiation to one.
Multiple streams support- Asterisk 15 offers preliminary support for multiple streams. Streams play a vital role in video conferencing and WebRTC. When it comes to multi-party video conferencing, a single client may have 8 video streams come inside and 1 video stream go outside along with 1 bi-directional audio system. Asterisk has brought explicit interface for streams in the latest version. In Asterisk 15, the stream support concept is codified with a new set of capabilities developed categorically for manipulating streams and stream topologies.
Unified Plan- The current standard that represents multiple streams in WebRTC is known as "unified plan". Asterisk 15 supports it for improved WebRTC-based communication.
In brief, we can say that Asterisk 15 is a futuristic version that extends support to media streams with a view to offering better user experience.
At AsteriskService, our experienced developers can use the cutting-edge technology for developing enterprise-grade VoIP solutions. Your business can get the most from Asterisk platform while meeting all the communication requirements.