Asteirsk Session Border Controller Solution Inherently Versatile and Seamlessly Cross Compatible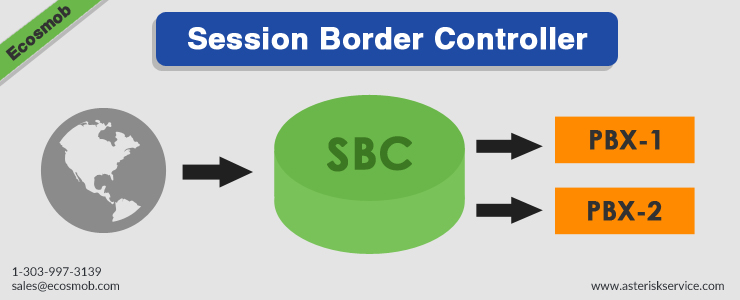 VoIP service providers and carriers are familiar with class 4 and class 5 softswitches but may not give adequate importance to sessions border controller or SBC as it is known. The SBC is a vital cog in the VoIP chain and actually indispensable from a variety of perspectives. How well it performs also depends on how smartly it is integrated into the ecosystem and interfaced with connecting protocols.
One can use a software or hardware SBC solution with the latter being more flexible and easily amenable to interconnects with other protocols as well as configuration. The purpose of SBC is to provide interoperability with NAT and carry out security functions besides connection to SIP trunks and transcoding that allows legacy phones to work in VoIP and other call translations when different codecs are in use. SBC handles media bridging that could also include voice and fax over IP and allows roaming extensions for SIP PBX with support for inbound and outbound calls in a secure way.
It is apparently simple.  Any developer may use any of the open source SBCs for Session Border Controller development and deliver a working solution. However, things are not that easy. It needs a knowledgeable and experienced SBC developer to understand all the various VoIP signaling protocols that have been used in some environments and the open source software on which they are based in order to provide a seamlessly cross compatible implementation with maximum features and minimum hassles. There are over a dozen open source SIP proxies, stacks, libraries and monitoring software as well as specific platforms such as FreeSWITCH. Since the SBC carries out a vital function and lies at the point of demarcation between two networks, it must be smoothly integrated to work as firewall and as transcoding agent besides NAT traversals. It needs an expert in SBC development to understand the anatomy of session border controllers and how precisely they integrate into the chain to assure smooth and flawless performance. This is where Asterisk Service shines with its years of experience in leveraging the specific advantages of several open source VoIP Platforms and SBCs with the smoothest and most powerful integration for flawless performance on all counts of security, interfacing among protocols and transcoding. The company offers various SBC development services and deployment in various use scenarios such as VPN, as network core or as centralized codec transcoder or on the border configuration regardless of underlying technologies.