Affordable, Multi-functional, Feature Rich Call Center Solution with Asterisk Development Service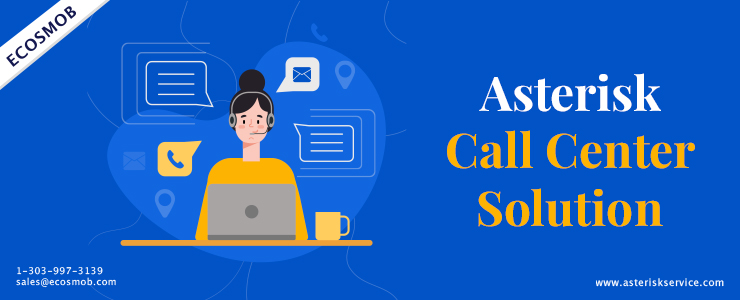 Asterisk is one of the oldest and most fluid open-source platforms for VoIP solutions. Call center solutions built on this platform are cost-effective, easy to maintain, easy to upgrade, and full of features. Established Asterisk solution providers have been at work for a long time and have access to a large community. What this translates to is fast development at low cost and smooth operations with fewest bugs. If you are starting a call center as a business or as a complement to your existing business or wish to upgrade your contact center solution then you would do well to choose Asterisk solution providers.
Chock-full of features
Asterisk framework converts a computer into a VoIP Gateway, a conference server, or an IP PBX system. It can integrate PSTN, IP phones, and softphones as well as mobiles in voice-video-text/data exchange contact center solution plus lots of other features that are standard operational features of call centers. These include call distribution, skill-based mapping, recording, and others. However, retaining Asterisk developers can get you more and enhance your existing solution or put in place a more sophisticated one. When everything is Asterisk-based, your operations are that much smoother and faster.
Asterisk Scripting
Your call center may have its specialized operation procedures. The standard call center software may not accommodate such needs. In this case, you retain an asterisk call center solution developer to provide AGI scripting. This lets you enjoy the facility of:
– Custom dial-plan
– Access and control sound channel, speech to text and handle voice stream
– DEADAGI scripting to ensure cleanup operations on-call hang up.
– Create your own custom billing solution
– Set up IVR
– Customize conference call and click to call.
– Set up phone verification
– Carry out polls
It is powerful and helps to integrate web applications for inbound or outbound campaigns. One example is helpdesk and ticketing which can be embedded in web pages with the use of scripting.
Scaling is easy
Asterisk makes for modular and scalable contact center solutions. Today you may be running 100 agents. Then you may wish to run a specialized campaign in which you need services to be scaled up. This would require additional Asterisk servers to take on the extra burden, an area in which you will need the services of Asterisk call center solution developers.
Custom integrations
Even your "good enough" existing call center solution can be spruced up with the help of Asterisk solution development services in different ways:
The Computer Telephony Interface can be integrated through API to work seamlessly with your CRM. This means easy access to records, less customer wait times, and faster first-time resolution for agents.
Asterisk is a tried and tested platform and expert Asterisk developers are a seasoned lot. You get access to the development of call center solutions, enhancements, customization, and modifications at reasonable costs since they already have reusable code and libraries that only need a little tweaking to fit your needs.