A Guide to Asterisk Voice Broadcasting Solution for Businesses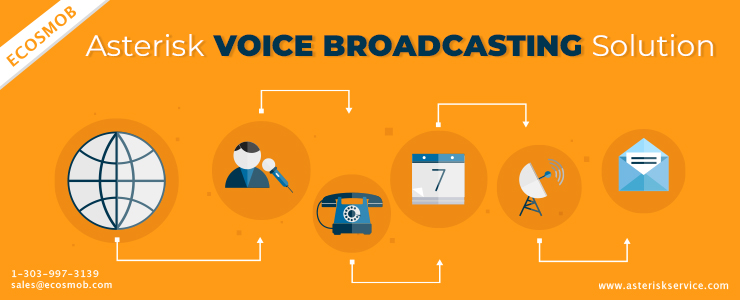 Nowadays, businesses work with an aim to drive marketing to greater heights while reducing costs. Asterisk voice broadcasting solution is a smart and innovative way to reach out to potential targets across diverse geographic locations. Businesses can easily integrate the software with their CRM, and the broadcast software will choose lists according to pre-determined parameters. Businesses can create a voice message in the language of their choice and then just need to define times when the voice message should be sent out. The broadcast software will do the rest.
What is Voice Broadcasting?
Voice broadcasting can simply be defined as a mass communication technique, which is used to broadcast messages to a large group at once. The voice broadcasting software is used to manage a database of phone lists as well as digitized phone messages. Using analog, digital, or VoIP telephony components, the software can simultaneously broadcast thousands of phone messages. Businesses can also include personalized information as per their requirement in the phone messages through the integration of text to voice software.
The voice broadcasting solution can be used by businesses to send out attractive offers and deals to their existing as well as new customers. The solution can also be used to carry out surveys. Businesses just require to feed numbers from the CRM to the software, design their survey, and send it out to their targeted customers. This way, businesses can gather a lot of useful information from customers spread out over various regions without spending a huge amount.
Benefits of Asterisk Voice Broadcasting Solution
Below mentioned are some of the key benefits of implementing Asterisk voice broadcasting system for businesses:
Offers flexibility
Cost-effective
Adds a personal touch to the messages
Helps reach a large number of customers throughout the world
Easy to use and integrate
Enhanced productivity
Reliable, scalable, and robust
Key Features of Voice Broadcasting System
Personalized messages: This feature allows users to send personalized messages for each recipient individually.
Recording separate messages: A smart voice broadcasting system can be programmed to recognize the difference between a live recipient and an answering machine. Based on this, separate messages are recorded for live calls and answering machines. The software delivers one particular message to a live recipient and a slightly different message to an answering machine.
Interactive voice response: The system allow users to feed personalized messages to an outbound IVR system that not only plays the recorded message at the destination but can also interact with the receiver of the message generally by connecting them to a live agent. The IVR voice broadcasting system also allows businesses to collect crucial customer information and insight for further lead generation.
Live call transfer: The Asterisk voice broadcasting solution offers recipients the option to connect with a live agent in case they have a query regarding a particular message. This not only allows instantaneous lead generation but also increases the chances for lead conversion.
Scheduling control: The voice broadcast system also allows users the flexibility of choosing the time when the voice message should be delivered. They can even choose the duration of the total effort and can also select the end time of the campaign.
Conclusion:
In all, a voice broadcast software system is a valuable tool for businesses. This cost-effective system helps achieve increased ROI. So, if you want to scale-up your business by creating value for your customers, you must start using the voice broadcasting system. It will create value and at the same time drive sales quickly.